Starting up a new cafe can feel like a daunting task at times, given the crowded F&B scene in Singapore.
The design of your cafe can be a differentiating factor, carving out an atmosphere that keeps patrons coming back.
The cafe uniforms your cashiers and baristas wear also play an important role here. For many customers, it's important that their servers look (and act) professional, trustworthy, and reliable. The uniforms also give your staff a cohesive look, making them easily identifiable to guests.
But what sort of cafe uniform designs would best fit your new cafe? We'll run through 13 design ideas in this article. 
1. Show Off That Bib Apron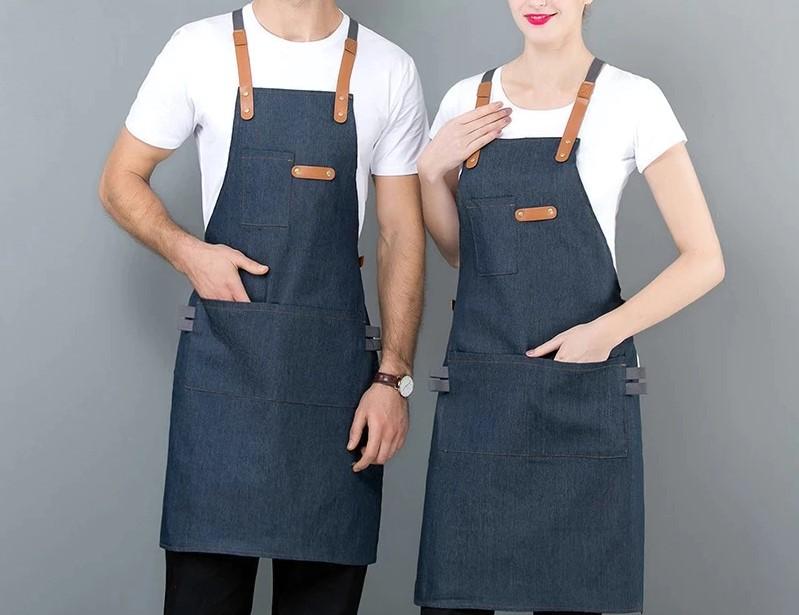 This cafe uniform is functional and easy for staff to follow. The bib apron is the only piece of the uniform that you'll have to supply; staff can easily wear their own white shirts (or any other colour of your choice) to go with it.
It's also easy to designate variations for different roles: you can have servers and baristas wear T-shirts underneath, while the cafe manager wears a collared shirt or polo for a little extra formality.
Best with a good-quality apron you can customise for your shop, like this one.
2. Design a Custom T-shirt for Your Cafe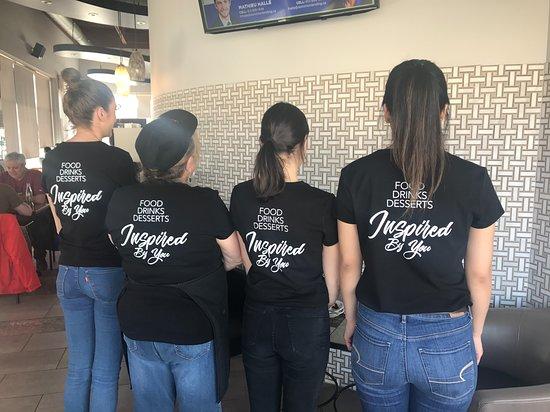 Have a witty phrase or logo you'd like to showcase? A custom T-shirt as part of your cafe uniform might be the perfect way to do that. Pair it with a half-apron with pockets and your servers are good to go.
3. Follow the Theme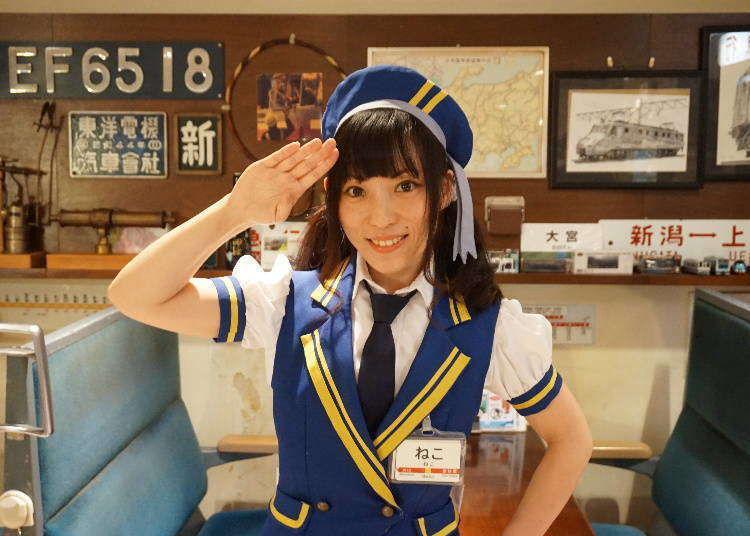 Themed cafes may be a bit much for some, but they do hold a certain appeal when executed well. It also makes sense for certain locations: a cafe by a pier could play on nautical themes, for example. In the above photo, a server dresses as a train attendant at a rail-themed cafe in Japan.
4. Go Monochrome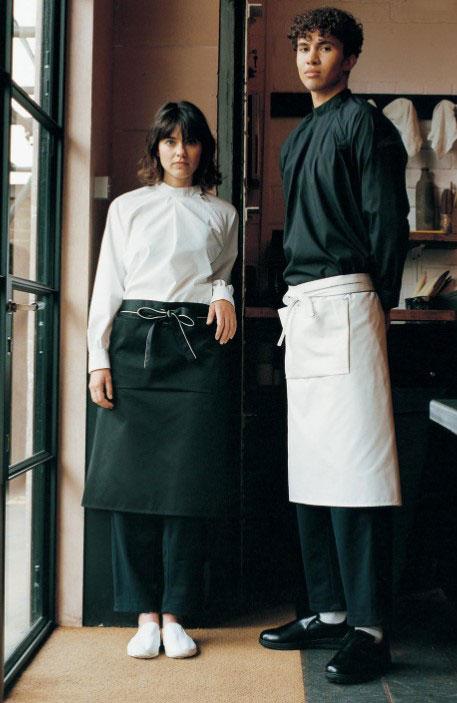 Simple but elegant, this black-and-white cafe uniform pairs well with minimalist decor. Whites are easy to wash, while blacks hide the stains and spills your staff will encounter.
You can even consider a top like this mandarin collar shirt to add a touch of timelessness.
5. Dress Like a Trendy Baker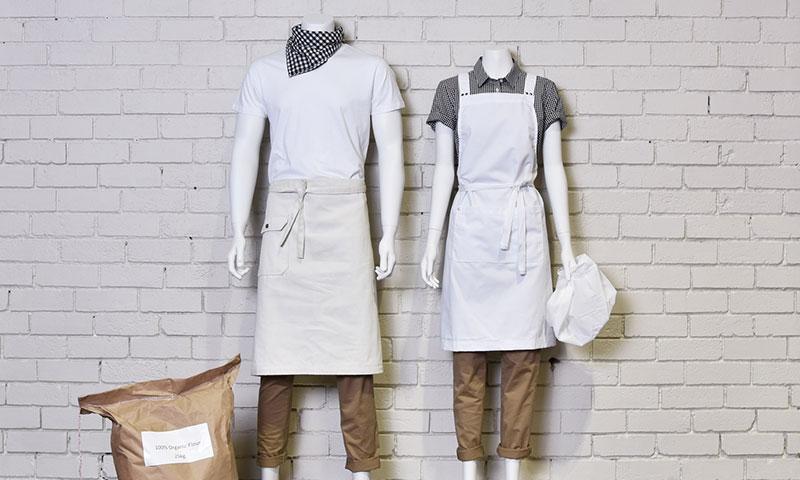 This outfit complements the homely atmosphere of bakery cafes.
The checkered accents are reminiscent of the traditional houndstooth pants that chefs wear. The aprons add a bit more functionality to the outfit, while short sleeves and chinos make this a comfortable uniform for all-day wear. We especially love the checkered neck scarf in this outfit, which also serves as a handy way for the ladies (or gents!) to keep their long hair back and out of the way.
6. Take a Cue from Franchises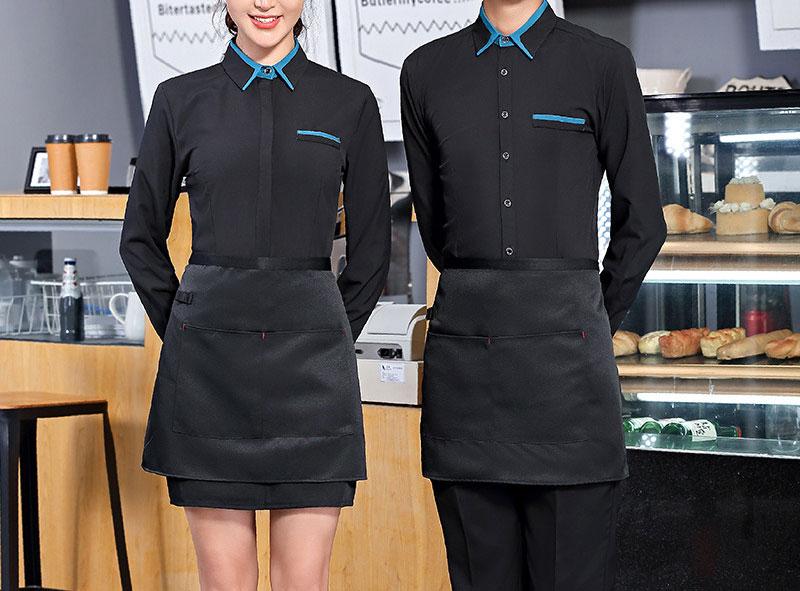 These types of uniforms are easy to mass-manufacture while still creating a distinctive, professional look across your outlets. Choose a lightweight polyester-cotton blend for all-day comfort: this type of material has a good combo of breathability and moisture-wicking properties.
7. Take a Vest(ed) Interest
If you're marketing your new cafe as a high-end establishment, you can opt for something that's more on the formal end. These vests add classiness to your servers' appearance while not being stuffy or overly restrictive with movement (the way a sleeved jacket might be).
Want more ideas for cafe uniforms? Check out our Pinterest board.
8. Rock the Classic Diner Look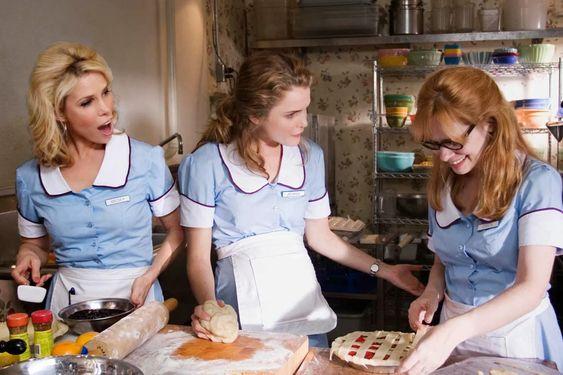 Unless you've stepped into a classic American diner, it's hard to understand the appeal of this uniform.
The diner waitress uniform is a nostalgic throwback to the days of good homemade food, served at all hours of the day in a building that's a melting pot of different cultures. Diners also play an important part in American pop culture, according to film critic John Patterson: "In the movies the diner is a special kind of space, a mythic place, a zone of escape."
Throw in a good slice of pie and a cup of joe and we're sold.
9. Bring Back the Bowtie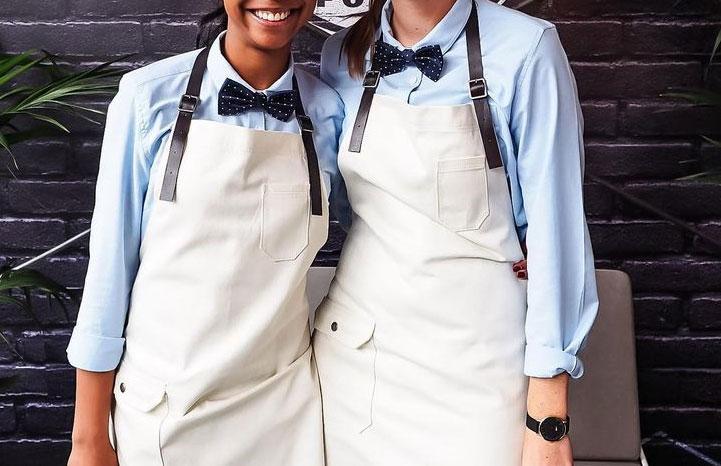 Bowties are playful, creative, and crafty -- making them a great addition to a cafe with an artistic flair.
You can also play with the colours depending on how formal you want it to look. Stick with black and white (or a more regal palette) for more formal, or go with a colourful design for a casual, friendly look. Prints and denim also make the uniform appear warmer and more welcoming.
10. Don the Darks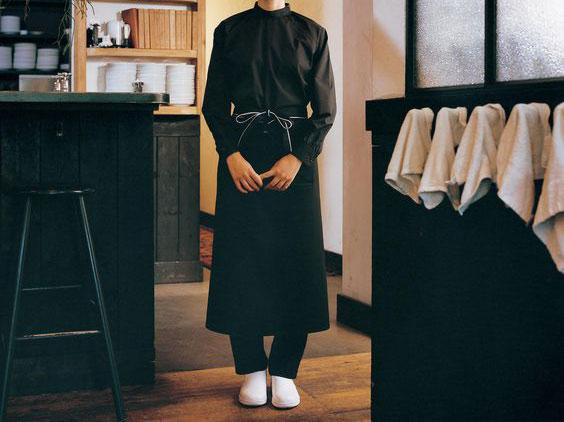 This all-black uniform speaks of mystery and elegance to us. Like the monochrome outfit in #4, this pairs well with a minimalist decor but would also fit well with a higher-end establishment.
Add this Western collar black shirt to get two secure chest pockets, making it easy for servers to store notepads, pens, or other necessary items.
11. Keep the Colours Easy on the Eyes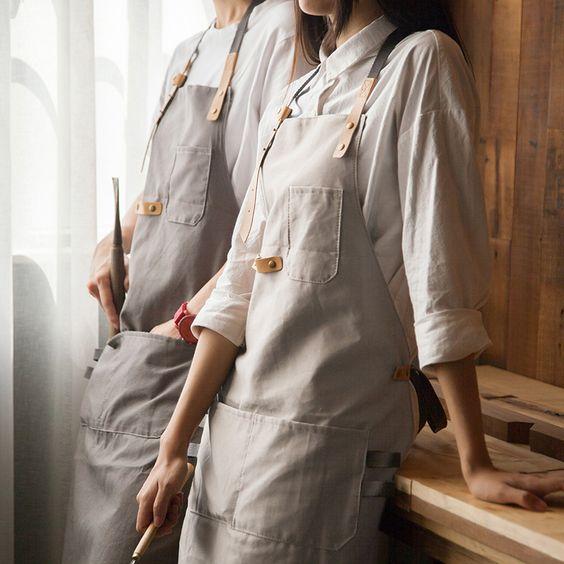 There's a reason people recommend using a neutral colour palette when you paint a home that's up for sale. This sort of colour scheme makes the decor appear clean, welcoming, and warm -- and the neutrality is calming for most of the population.
Apply the same principle to uniforms and you'll have an aesthetic that invites people to linger at your cafe for longer.
12. ...Or Go Bold with the Bib to Grab Attention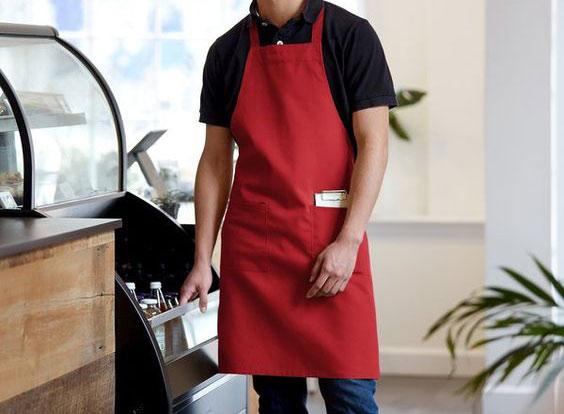 Then again, you might not want people to stay at your cafe for that long -- in which case you can use the same colour psychology that fast food restaurants employ.
Warm and bright colours like yellow, orange, and red are visually stimulating. But because they're so stimulating, looking at them for long periods of time can also become irritating and result in a higher turnover. That's why high-volume fast food restaurants often use this colour combination: it's advantageous not to create an atmosphere where people are inclined to stay.
13. Jibe with the Japanese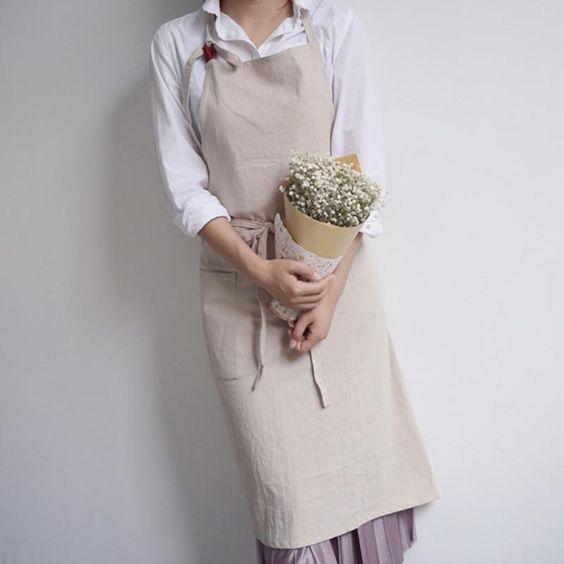 Japanese aesthetics draw inspiration from Mother Nature, so you'll see a lot of earthy, light floral colours in their interior design and fashion. These speak to their cultural ideals of harmony, balance, and order while also emphasising the beauty of the natural world.