[Cherokee Scrubs Review 2020] How Good Are These Scrubs?
Overview
No newcomer to the scrubs scene, Cherokee Medical Uniforms has been around since 1972.
Their widespread availability in big retailers and expansive line of medical apparel are two big reasons for their success. They're now known worldwide for their durable and highly functional nursing scrubs.
Still, having a bigger brand doesn't necessarily mean it's better.
As a professional, you need medical scrubs that support you as you work, not become something you have to suffer through.
The question is: are Cherokee scrubs up to the task? Let's find out in this in-depth review.
How We Evaluated the Brand
We talked to healthcare and dental professionals around the world who have worn Cherokee scrubs.
They gave us their raw and honest opinions on the products, which we sorted into these five criteria:
Comfort, Mobility, and Fit
Functionality
Material and Breathability
Care, Maintenance, and Durability
Cost
We then gave Cherokee scrubs a score for each of these categories along with an overall average.
1. Comfort, Mobility, and Fit
It was once said that the best kind of clothing is the kind you can forget about after you put it on.
This seems especially true with medical apparel. You don't want your nursing scrubs to be stiff and scratchy during a 12-hour shift, let alone have to keep pulling down your scrub top or retying the drawstrings on your scrub pants.
Ideally, your medical scrubs should:
Fit you well and be neither baggy nor inappropriately tight
Be comfortable especially at the end of a long day
Allow you to squat, bend over, and reach in various directions without exposing you
Unlike Figs scrubs, Cherokee scrubs aren't known for their comfort. With many of their product lines, wearers report that the scrub material feels noticeably rougher.
Said one doctor, "I've always disliked Cherokee for the stiffness and feel of the material. I have a small frame and most of their men's scrubs are too baggy. But the quality of the material seems to have improved with their newer product lines, and the [Cherokee Workwear top] fits perfectly to my liking."
And a female OT said of her Cherokee Workwear Flex scrub top: "The material was too rough for my taste, and oddly didn't match the same-styled pants in colour. They were also not form-fitting and took a few months to break them in."
That said, if you don't mind a breaking-in period, most people we spoke to reported that Cherokee scrubs soften up over time. Their newer lines (Cherokee Workwear Revolution, Cherokee iflex) are also made of a softer fabric.
And what about the fit?
Cherokee scrubs used to be known for their baggy, unisex cuts with pants that flared out at the bottom.
Even though they now have more modern cuts, it appears they haven't strayed too far from those days.
One female nurse said of her Cherokee Infinity scrub pants: "I'm a big girl and these felt like I was wearing a parachute. They were way too big at the calves and flare out like bell bottoms."
Another female RN said of the same pants, "I bought both the Cherokee Infinity pants and top. The top is fitted, but the pants are really baggy around the thighs and calves. They fit just right around my waist and hips, so I can't go down a size. Feels like I'm in an MC Hammer vid."
But this certainly isn't true for everyone.
According to a female RN, "the Cherokee iflex top and pants are the best scrubs I've ever gotten. The material is comfortable, lightweight, and adequately stretchy throughout. The top fits snugly around the shoulders and drapes well below. The pants allow me to squat without revealing anything -- and I've seen more than my fair share of buttcracks in nursing."
"I found my [Cherokee Workwear Revolution] scrub pants very flattering and comfortable. My only gripe is that they don't stay up. It's like the drawstring loosens throughout the day."
Our Score: 6/10
2. Functionality
Functionality is where Cherokee scrubs shine.
Most of their scrub tops and pants have at least two pockets, and often 3-4. Many of the tops also have a little clip where you can attach your ID badge.
Still, we'd always recommend looking closely at the number of pockets (and where they're located) before you purchase your scrubs.
Also, a few of our nurses mentioned that with certain product lines (like the Cherokee Workwear Professional cargo pants), the scrub pants tend to slowly fall off when the pockets are weighed down.
Not a pretty picture!
Here are our recommendations:
Men
Cherokee Infinity Scrub Top: "First thing I loved about these were the stretchiness. I don't have to worry about ripping it. Pockets are nice and big too."
Cherokee Infinity Men's Fly Front Pants: "Lots of pockets and deep enough that I never have to worry about my phone falling out even when I'm sitting down. I found the carabiner useful for attaching my scissors - kept them within arm's reach but didn't slide around too much."
Women
Cherokee iflex Knit Panel Scrub Top: "Super soft fabric, especially on the knit panels, and so many pockets!"
Cherokee Workwear Revolution Mock Wrap Scrub Top: "These have good stretchiness and lots of pockets. I find they wrinkle easily though."
Cherokee Infinity Drawstring Scrub Pants: "Love all the extra pockets on these. I'm not a fan of the bungee cord at the bottom though; they move around when I walk."
Cherokee Workwear Professionals Cargo Scrub Pants: "The elastic waistband is looser than I'd like, but there's plenty of room in all the pockets."
Our Score: 9/10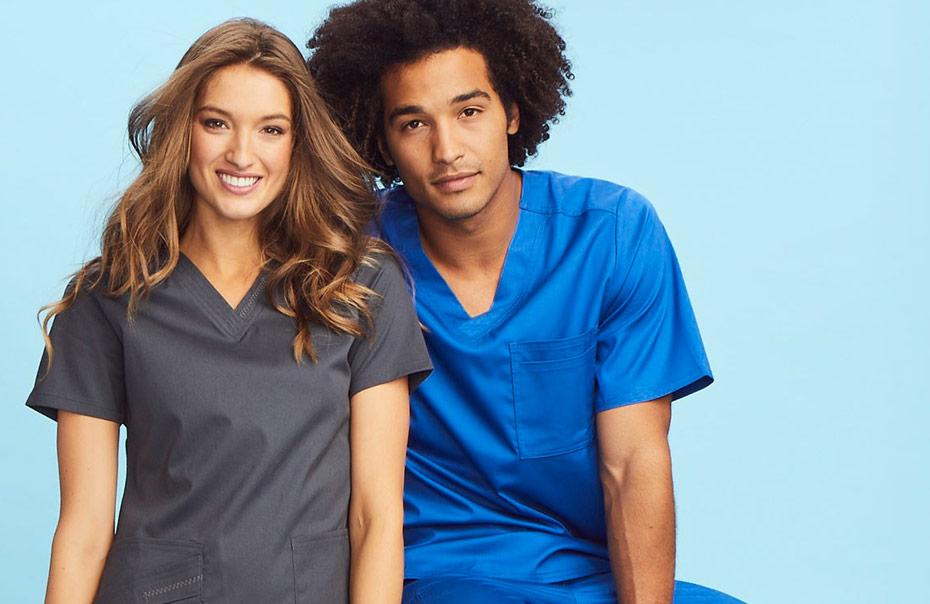 3. Material and Breathability
Depending on the product line, Cherokee scrub fabrics can vary pretty drastically.
You could get an older line that's 65% polyester and 35% cotton (Cherokee Originals) or a newer line that's 78% polyester, 20% rayon, and 2% spandex (Cherokee Workwear Revolution).
But the general consensus is that the fabric materials have improved over the decades. The newer product lines are not as stiff and rough as the older scrubs, for example.
And in recent years, the company has followed the lead of other medical apparel companies and begun to offer fabrics with four-way stretch, antimicrobial, wrinkle-resistant, and moisture-wicking technology.
One floor nurse said of her Cherokee Workwear Revolution scrubs: "The material is very soft and light. They're comfortably stretchy and don't show sweat marks."
And a male nurse said of his Cherokee Infinity scrubs: "I work on the dementia floor and am constantly redirecting, lifting, and transferring patients. The heat on the floor is always cranked up miserably high, but these scrubs are comfortable and help keep me cool."
That said, as an international company that outsources its manufacturing, Cherokee does seem to have a few problems with inconsistency:
"My scrub tops were made in Kenya and the quality is good. But when I got my scrub pants, I could tell the quality was a lot lower. I don't know if it's true of all the products from that region, but my Vietnam-made Cherokee pants were disappointing."
Our Score: 7/10
4. Care, Maintenance, and Durability
They may be stiff at first, but Cherokee scrubs are definitely durable.
"These are definitely not your tailored, fitted sort of scrubs, but they're affordable and durable. I've worn them for years as a nursing aide."
"I've used the same few sets of Cherokee scrubs for five years. I've tried other scrubs, but I've always come back to these. No other scrubs come close to their comfort, functionality, and durability."
The downside is that Cherokee scrubs don't seem to have a great track record with their "wrinkle-free" promise:
"I had a terrible time getting the wrinkles out after it came very tightly packaged. It says it's a wrinkle-resistant fabric, but it's a lie. At first I tried ironing. I even washed and put them in the dryer three times. I finally got the wrinkles out after holding a steamer to it for a long time. Never had to do that with other scrubs."
"My [Cherokee Workwear Professionals Cargo] scrub pants fit great, but they do wrinkle and collect lint."
Our Score: 7/10
5. Price
Cherokee scrubs sit at the mid to middle-upper end of the price range.
They're nowhere near as expensive as Figs scrubs, but they're definitely not run-of-the-mill scrubs where you can get a whole set for under $30.
But considering how long they typically last, Cherokee offers decent value for money.
"For the price, you can't really go wrong with these scrubs. Just try them on in the store or size down as they tend to run big."
Our Score: 8/10
Summary
Comfort, Mobility, and Fit:
6/10
Functionality:
9/10
Material and Breathability:
7/10
Care, Maintenance, and Durability:
7/10
Price:
8/10
Overall Score:
7.4/10
Functional, durable, and good value -- three traits the pragmatic healthcare professional will appreciate. Cherokee may not be everyone's go-to option, but they do have a wide range of scrubs that are well-liked by many.
Manufacturing plants, hospitals & labs use MF to automate orders and manage their uniforms.