[2023 Figs Scrubs Review] Do They Live Up to the Hype?
Overview
Figs has made a name for itself in the world of medical scrubs.
But all that buzz makes you wonder if it really lives up to the hype -- not to mention the hefty price tag.
Plus, with the company's (in)famous promotional campaigns and number of sponsored brand ambassadors, it's hard to tell what's real from all the marketing fluff.
The Figs website itself is notorious for screening out bad reviews, leaving those on the fence unsure as to whether the brand actually delivers on its promises.
That's why today we're evaluating whether or not Figs scrubs are worth it. We'll look at how well their medical nursing scrubs support the work of healthcare and dental professionals -- or if they cause more headaches instead.
Let's get to it!
How We Evaluated the Brand
We interviewed healthcare and dental professionals around the world who have worn Figs scrubs.
They gave us their unfiltered opinions on the products, which we sorted into these five criteria:
Comfort, Mobility, and Fit
Functionality
Material and Breathability
Care, Maintenance, and Durability
Cost
We then gave Figs a score for each of these categories along with an overall average.
1. Comfort, Mobility, and Fit
Comfort and mobility are important when you're working long shifts.
Ideally, your medical scrubs should:
Fit you well and be neither inappropriately tight nor baggy
Be comfortable especially at the end of a long day
Allow you to bend over and reach forward, upward, or sideways without exposing you
Based on the responses we got, Figs scrubs generally seem to live up to their promise of a "perfect fit."
Notably, Figs also stocks Petite, Tall, and Skinny fits for certain scrub pants - brownie points for them there.
Here's what our nurses said:
"I was sick of the drawstrings on my current scrubs, so I decided to take the plunge and splurge on these. They were worth it! The yoga waistband is SO comfortable and the pants are flattering in the right places."
"My [Yola Skinny] scrub pants fit me almost as well as a pair of jeans, but with a bit more give. They run a tad past my heel but not enough that I need them hemmed. Super comfortable and I love the soft feel of the fabric."
"I wore hospital scrubs first, then Dickies. When I finally tried Figs, the difference was like night and day. They are extremely comfortable and stretchy in the right places."
Read also: [Dickies Scrubs Review 2020] What Do Nurses and Doctors Think?
One caveat though:
Figs scrubs seem to be a better fit for those who are slim, tall, or athletic. But the general consensus is that they're not as great for those with curvier figures or who are carrying a little extra weight.
Asian builds also tend to have trouble with Figs scrubs: the V neckline is sometimes inappropriately low if you're not wearing an inner layer. They also hang a little baggy, so we'd recommend sizing down or trying out the sizes before purchasing.
According to one nurse, "these scrubs are gorgeous. But they obviously weren't designed for big bottom gals, unless you like walking around with your booty on full display."
And a male pharmacist noted, "[my Figs scrubs] look great with lab coats but ridiculous without as they highlight my love handles, moobs, and belly."
And be warned:
Figs seems to have run into manufacturing or quality control issues as of late.
Said one NICU nurse: "I have a Figs Kade pants with a Catarina top that I bought two years ago. I recently ordered the exact same set in the same size and they were nowhere close to fitting. To make sure it wasn't a fluke, I ordered another set from a different place. The fabric seems to have completely changed, as has the fit of the scrubs."
Said another nurse: "I own a few sets of Figs cargo pants and Casma tops. I ordered a replacement set recently, and when they came both the pants and tops were far too long. The tags were correctly labeled with the size I usually get but were nowhere near the same fit."
And worse still: "I ordered three sets of Figs scrubs in the same size and they all fit differently. It's like they don't follow a templated cut."
We're not sure why so many have been reporting quality issues with Figs scrubs in the last 12 months.
But one thing is clear: the company does have to take the feedback seriously if they want to maintain their reputation as a premium brand.
Our Score: 7/10
2. Functionality
The functionality of the scrubs depends on the exact Figs product you select.
Figs does have product models with only one pocket, which most professionals have reported as being far too few.
We'd recommend choosing your scrubs based on the environment you work in.
One nurse, regretting her purchase, said of her Figs Livingston scrub pants: "these only have two back pockets, which are just impractical unless you don't mind sitting on your supplies."
If you're looking for maximum functionality, here's what our healthcare providers recommend:
Men
Figs Leon Two-Pocket Scrub Top: "I love these for 12-hour shifts. Lots of pockets, and ordering them in black means blood won't show up on your scrubs!"
Figs Axim Cargo Scrub Pants: "Plenty of pockets, and great waistband to keep my pants up even when my pockets are full. The fake zipper was a disappointment though."
Women
Figs Kade Cargo Scrub Pants: "I love how soft and comfortable the material is, but I love the pockets even more. I always have stuff to tote around and need the extra space!"
Figs Yola Skinny Scrub Pants: "These have extra functional pockets deep enough for a phone, small wallet, and other miscellaneous valuables."
Figs Casma Three-Pocket Scrub Top: "This top has plenty of pockets. The third pocket is inside one of the front pockets and is where I usually put my ring. I think the V-neck is a little bit too low, but that might just be me."
Our Score: 9/10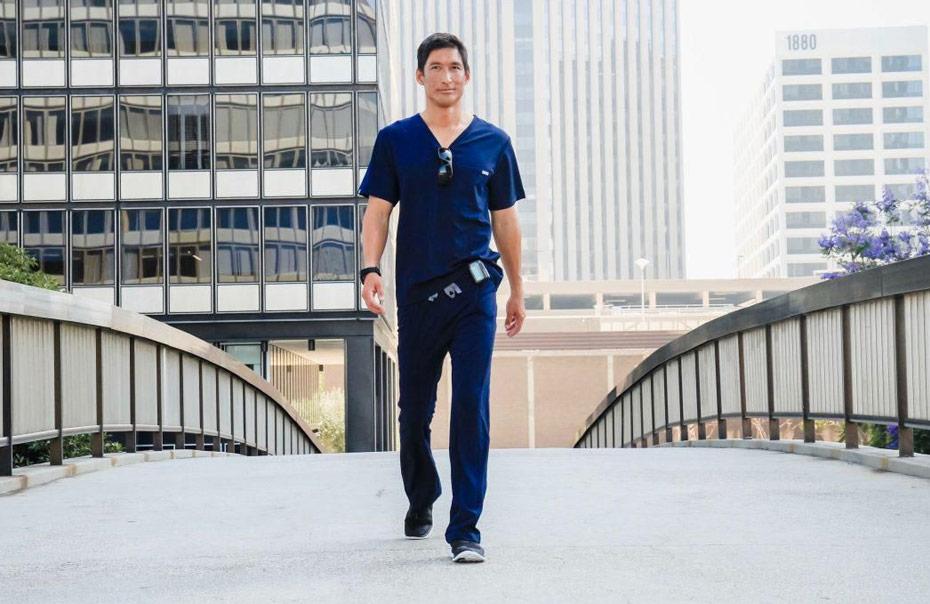 ​
3. Material and Breathability
Read the specs of any Figs scrubs and you'll likely see mention of their proprietary fabric.
Drawing inspiration from the athleticwear industry, the two Figs founders took two years to develop the material.
The result?
A material they claim is antimicrobial, stain-repellant, and anti-odor with four-way stretch. Figs scrubs are also known to be breathable, quick-drying, and offer protection against liquid spills.
But let's hear from our healthcare and dental professionals:
Said one female nurse, "My Figs scrubs are really comfy and breathable. I've tried so many different brands and will never go back."
And another: "The fabric is super soft and comfortable, but it also seems well-made and durable. I love that it resists spills - liquid just beads up and slides right off. The material is also slightly thicker than some other brands so they'll keep you warmer for those of us who work in hospitals."
That said, the quality issues the company has been plagued with recently also seem to apply here:
"I got Figs scrubs a while back, and honestly, they weren't as advertised and definitely not worth the price. The scrubs felt suffocating. The material was neither breathable nor flexible, which are deal breakers given the hot and humid climate where I live."
"I read somewhere that Figs scrubs are made of antimicrobial cloth. That probably explains the odd smell they've had since I got them. No matter how many times I wash them, it still hasn't gone away. I don't have this issue with any other brand of scrubs, so it's definitely the Figs."
"First time I wore them I noticed there was an odd smell. I washed them, wore them again, and the smell persisted. Honestly, I'm embarrassed to wear Figs out now."
Our Score: 7/10
4. Care, Maintenance, and Durability
Do Figs scrubs really last "forever," as some claim?
The seams are where they seem to have taken extra care. Figs scrubs sport 15 stitches per inch versus the industry standard of 10 to 12.
Most of the professionals we interviewed seem to agree with this: even after a year of regular use, their Figs scrubs are still in fantastic condition.
"My Figs scrubs are very easy to wash - I just hang them up to dry and it's ready when I wake up in the morning."
"The colour hasn't faded even after consecutive washes. Figs doesn't disappoint."
"I've worn my Figs scrubs pretty much every other day for a year and they're still going strong."
Sadly, Figs doesn't seem to have left their quality issues far behind:
"Figs claims they created the highest standards for scrubs, but I'm sorry to say they weren't able to execute on this. These scrubs get easily stained with food, oil, and random liquids."
"The V neckline on my Figs scrub tops have stretched out over time. Something about the way the fabric was constructed, I think."
"The Figs scrubs weren't what I expected. The fabric seems to wrinkle easily and water is absorbed into it instead of beading off like they claim. A lint roller is a must as well."
"Two months after purchasing my Figs scrub pants, the stitching on my side pocket started to come out. The pocket has now completely fallen off! They totally didn't live up to my expectations."
Our Score: 7/10
5. Price
When asked whether they'd purchase Figs scrubs again, most of the practitioners we interviewed gave a resounding yes.
But there was a minority who was less than eager: those who dropped the $50-100 on a set of Figs scrubs only to be disappointed by the poor quality and fit.
Our Score: 5/10
Summary
Comfort, Mobility, and Fit: 7/10
Functionality: 9/10
Material and Breathability: 7/10
Care, Maintenance, and Durability: 7/10
Price: 5/10
Overall Score: 7/10
Given Figs' price point, it's no wonder that the scrubs seem to have a polarizing effect on its user base (past and present). Diehard fans of Figs vow to never go back to other brands. But those who have been disappointed wish they'd never bought into the hype in the first place.
We'd agree with the latter, especially considering that Figs' customer service and return policy aren't great for those living outside the United States. Unless Figs can resolve the issues with their inconsistent sizing and quality control, it seems risky to spend that amount on a brand that may not deliver.
​
​Manufacturing plants, hospitals & labs use MF to automate orders and manage their uniforms.
​