Medical Scrubs Fabric: Which One Is Best? [A Practical Guide]
Are 100% cotton scrubs a good idea?
What's the best material for scrubs in hot weather?
With all the different blends of fabrics out there, it can be difficult to figure out what you need in your medical scrubs.
That's why today we'll talk about scrubs materials, including:
How the materials used for medical scrubs have evolved over time

The most common scrub fabrics today

The best material for scrubs in summer, winter, humid climates, and more

What you should be looking for in surgical scrubs materials
Let's get started.
Hospital Scrubs Material: A Brief History
Before the late 1800's, surgeons used to wear black coats stained with pus and dried blood from past operations.
Sounds horrifying, right?
But back then, the blood was actually a badge of pride for surgeons.
Germ theory wasn't widespread knowledge yet, and the bloodstained coats indicated that the doctor had considerable experience performing surgeries.
Later on in the early 1900s, doctors started using the earliest versions of surgical gowns. These were usually white and made of muslin (a loosely-woven cotton fabric), which afforded decent protection -- until they got wet.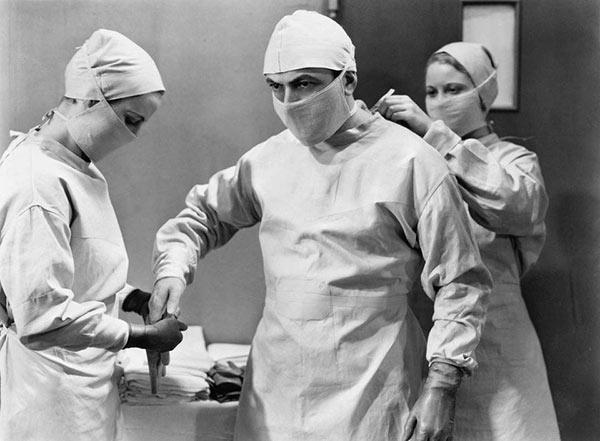 To increase protection against liquids, manufacturers applied rubber to the gowns.
This helped. But as you can imagine, they were really uncomfortable to wear.
Thankfully, with the development of innovative new fabrics in the 1950's, surgical scrubs took on better materials.
Healthcare providers also abandoned white in favour of green/blue because they realized white surgical gowns created a green ghosting effect -- a visual phenomenon that came from staring at red viscera for long periods of time.
Today, surgical gowns afford wearers different levels of protection depending on the risks of the surgery.
High-barrier (and often reusable) gowns are best for high-risk surgeries, for example. But for lower-risk surgeries, scrub suits made of a disposable, low-barrier material will do. 
Types of Materials for Medical Scrubs
There are four main types of scrub fabrics:
Cotton

Polyester

Rayon

Spandex
Each of these has its own unique properties.
Scrub brands will typically blend two or more of these to achieve whatever goals they were aiming for (e.g. high comfort and durability at a low price point, or a more premium 'athleticwear' feel).
The blend of scrub fabrics affects the scrub suit's comfort, durability, and ease of maintenance. (Read more about different scrub fabrics and what they mean.)
But there are always trade-offs.
Figs scrubs, for example, have a reputation of being very soft and comfortable. But the lack of cotton and inclusion of spandex means it's not the best for humid, subtropical climates like eastern Asia. Instead, the Figs scrubs tend to feel warm and less breathable.
Here's a quick chart detailing the properties of materials used for medical scrubs: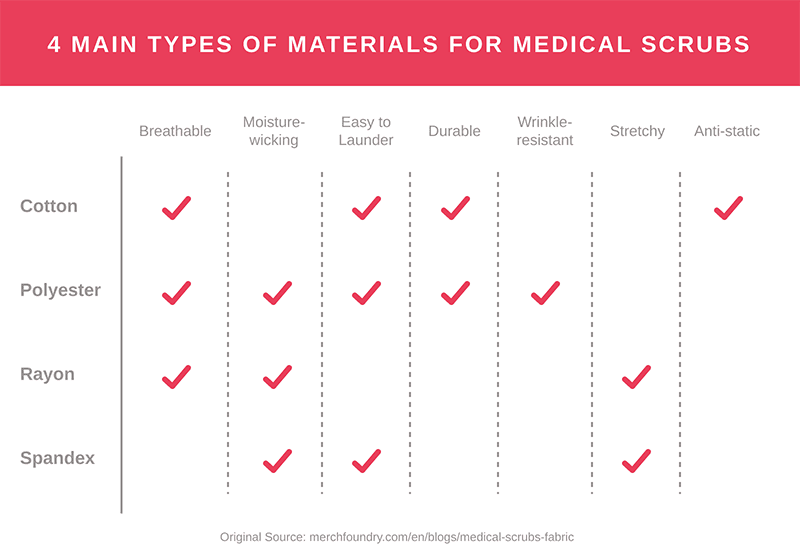 Cotton
A popular choice through the ages, cotton is soft, breathable, long-lasting, and resists static electricity. While this natural fibre isn't typically wrinkle-resistant, it can be treated to prevent wrinkles.
Cotton is also biodegradable -- though it's one of the most environmentally-demanding crops because of the amount of water and pesticides it takes.
One downside is that 100% cotton garments are prone to shrinking. Although it's possible to mitigate this through 'pre-shrinking' the clothing, this doesn't mean there will be zero shrinkage afterwards. If exposed to a high-temperature wash, 100% cotton scrubs may still end up shrinking.
Cotton is a great material for summer, but by itself it isn't great at moisture-wicking. (If you've ever sweated it out in a cotton top, you likely know from experience that it takes forever to dry.) For this reason, manufacturers typically blend cotton with polyester to give it better moisture-wicking properties.
Polyester
Polyester is a synthetic material that's durable, wrinkle-resistant, moisture-wicking, and easy to care for. 
Unlike cotton, polyester fabrics are not absorbent or prone to shrinking. The material itself is actually a type of plastic, so it's good at resisting stains and dries quickly. Unfortunately, polyester does tend to retain odours and its breathability depends on the yarn size and type of weave.
Polyester fabrics tend to be cheaper than 100% cotton because of their lower cost of processing.
If you've got a static buildup problem, check whether your clothes have a high polyester content. Polyester fabrics are the most likely culprits for attracting static electricity.
Rayon
Made from regenerated cellulose fibres (i.e. wood pulp), rayon is a soft, lightweight, and absorbent fabric that has a lot in common with cotton.
It's widely known as a cooling fabric as its thin fibres give it good breathability. Its quick-drying nature also makes it a popular choice in dry heat climates. That said, it doesn't do as well in humid environments because it doesn't wick moisture away as well as other natural fabrics like bamboo.
Rayon is wrinkle-resistant and smooth to touch. Like cotton, it's prone to shrinkage, so rayon fabrics are best washed cold and hung dry.
Spandex
Spandex is a synthetic fibre and a popular choice of material to add stretchability to apparel. It's strong, lightweight, and can be stretched over 100% without losing its shape. By itself it isn't wrinkle-resistant, but can be blended with other fabrics to achieve the effect.
A little spandex goes a long way. If you're looking for a four-way stretch, look out for scrubs with 3-4% spandex or elastane content. This adds to the scrub suit's overall flexibility and comfort. But be warned: spandex-heavy fabrics aren't very breathable, so they're not great for hot weather. 
What's the Best Material for Scrubs?
Short answer: it depends on your role and working environment.
There are many different materials used for medical scrubs, each designed for specific purposes. 
One scrub suit may be made of a polyester-cotton blend and work great for hot, humid climates (like Singapore).
Other scrub suits may use a polyester-spandex blend to give its wearer more flexibility and range of movement.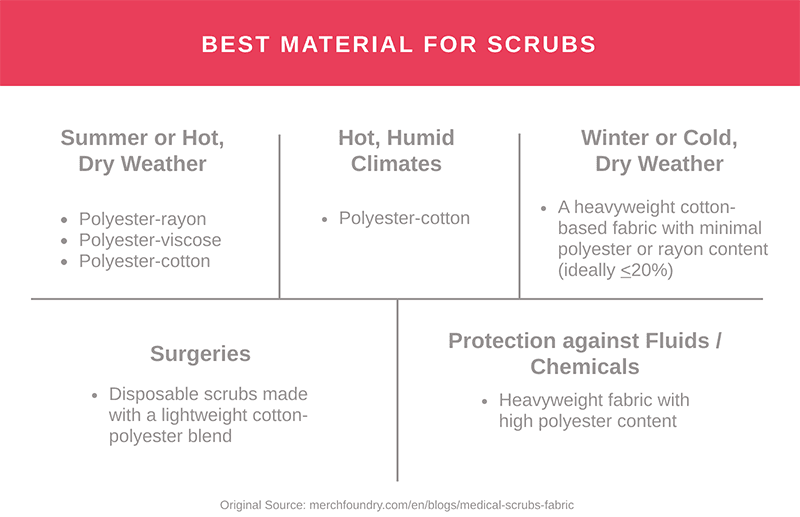 Here are our recommendations:
Best Scrub Fabric for Summer / Hot, Dry Weather:

Polyester-rayon, polyester-viscose, or polyester-cotton blends. These have good breathability and moisture-wicking properties. Ideally, choose a lightweight, flowy material with a bit of spandex to help with flexibility and stretchiness.
Best Scrub Fabric for Humid Climates:

Polyester-cotton blends. This type of fabric strikes the best balance between breathability and moisture-wicking. Choose lightweight (thinner) fabrics with a bit of spandex for the most comfort and freedom of movement.
Best Scrub Fabric for Winter / Cold, Dry Weather:

A heavier-weight, cotton-based fabric with minimal polyester content (preferably <20%). This will help keep you warm while not attracting static electricity.
Best Scrub Fabric for Surgeries:

Consider disposable surgical scrubs. Surgical scrubs material tends to be made with a much lighter weight cotton-polyester blend meant for a single use.
Best Scrub Fabric for Protection Against Fluids / Chemicals:

Go with a heavyweight fabric with high polyester content for better protection and stain resistance.
​Manufacturing plants, hospitals & labs use MF to automate orders and manage their uniforms.
​
​