Medical Nursing Scrubs: The Complete Guide
Medical nursing scrubs are the go-to option for modern medical and healthcare uniform. It comes in a scrub set or scrub suit with matching scrub top and pants. 
With so many scrub brands, scrub designs and even custom scrub options out there, it's hard to choose. How do you pick out the best scrubs for your team? How do you find the most suitable scrub uniform for your hospital, clinic or medical practice? 
We hear you. That's why we've put together this comprehensive guide on choosing the best medical scrubs in Singapore.
We'll be introducing top scrub brands, while highlighting what to look out for in a good pair of scrubs. If you are considering custom scrubs, we'll touch on that too. We've consolidated all you need to know about medical scrubs to make a smart decision that is value for money. 
This article serves as a comprehensive guide to medical scrubs. If you're looking to make a purchase, please contact us or view our catalogue here.


How To Choose The Best Scrubs
We'll be highlighting things you can look out for in a good set of medical scrubs. These are key indicators you can use while choosing from different scrubs. When evaluating medical nursing scrubs you should broadly break them down into these few components: 
Comfort & Mobility
Functionality (Features & Design)
Material & Fabric Type
Price
Care, Maintenance & Durability


1. Comfort & Mobility
A critical component of medical nursing scrubs is the fit and how well it enables or restricts your movement throughout the day. Medical nursing scrubs are often worn for an entire shift. If you have to further put on PPE, this will make it even more tiring as the day goes on. For all day comfort & mobility, look for scrubs that have a relaxed fit, stretchable fabric, and a lighter weight material.
In short, lookout for:


Stretch & Softness
New school scrubs features some fabrics that are stretchy and lightweight, allowing for a slimmer fit without compromising mobility. The MF Basic Stretchable Scrub, Cherokee Infinity, and the FIGS can all boast excellent all day comfort and mobility thanks to their stretchy fabrics. Point to note however, stretchy models tend to be less durable and are also less able to handle high heat washes compared to the non-stretchy scrubs.


Fit
The fit of your scrubs affects comfort and mobility. We'll be taking you through how you can find the ideal fit and get the sizing correct. 


How scrubs should fit:
Loose but not baggy

Allows you to move comfortably in it

Lets you bend over and stretch upwards without exposing you

Choose the larger size if you're in between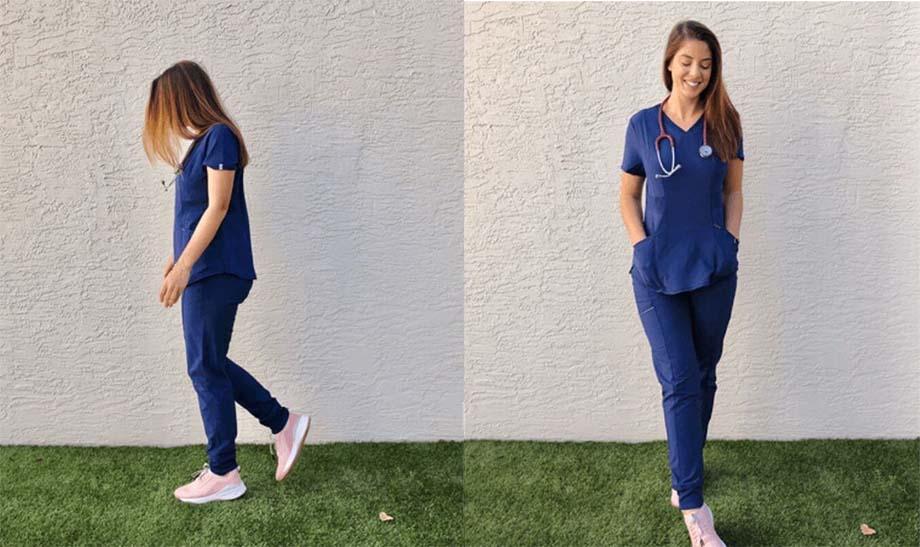 Image credit: Casey Smith, RN
Your scrubs should be loose enough to allow you to move comfortably. This includes bending down, squatting and stretching upwards without exposing you. If your scrub top has been tucked in, then check that it is long enough for that. Scrub pants should sit just at the ankle. It should also be loose enough so you can move about freely. Scrub pants should come with an elasticated waistband and drawstring for an adjustable fit at the waist.  


How to find the right size:
Check the fit: Asian, Western or other

Check the cut: Slim or relaxed

Size up if in the middle of two sizes

Check the size range
Scrubs from Western brands run in Western sizing. This tends to be bigger than what we are used to. Sizing down might be needed. Meanwhile, scrubs from Japanese brands, such as Mizuno, tend to sit a bit shorter. You might need to size up for a comfortable length. Buying scrubs from a local brand (like our MF Basics Medical Scrubs) would be the easiest as you can just follow the same size you normally wear for clothes. As medical scrubs are meant to be loose, you should go for the bigger size if you are in the middle of two sizes. If you are ordering for a team, it is important to check the size range. This ensures that the scrubs come in all the sizes you require, especially for petite and plus sizes. 


2. Functionality
A scrub should be ergonomic and allow you to keep what's handy with you at all times without becoming a clutter. This metric is subjective but very important to a scrub's overall performance. The features can make or break a scrub and will either help you end your day with appreciation or outright irritate you every time you work in your medical nursing scrub. In short, lookout for:
Pockets
Collars & Neckline


Pockets
Check a scrub for pockets, collars, sleeve seams, and zippers. The number of pockets and where the placement of these pockets are constructed will help you store your phone, writing materials, medical tools, and anything else that you want within reach. We love pockets that hold stuff in convenient-to-reach places.
In particular, we love scrub tops with 3 pockets designs. One at the chest and two lower torso front pockets. This should be the bare minimum for scrubs. Specialty pockets like side seam pockets and zippered pockets may come in handy but at times they may look good but do get in the way of mobility when you need to bend down. These features are important characteristics to consider. Here's a quick summary for pockets:
At least 2 pockets per scrub top/pants

Holds your things securely]

Lookout for roomy pockets that are spacious and deep
You want pockets that can hold your items securely, without slipping out easily as you move about. If you carry bigger items on you, such as tablets and notepads, check if the scrub pockets are big enough to hold them. 
If you need to carry a lot of things on you as you work, additional scrub features will be useful. These help you organise your tools, such as: 
Compartments for pen, scissors and other instruments

Zipped compartments

ID or instrument loop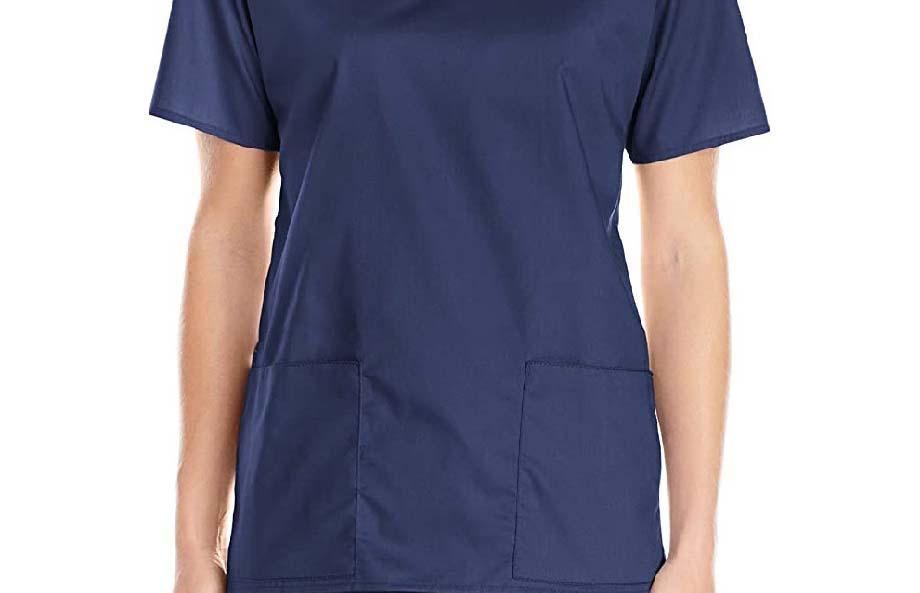 Collars & Neckline
Generally we like the tried and tested V-shaped collars. No two V shaped collars are identical. For example, the FIGS three-pocket scrub has an open sew method while the MF Basic Stretchable Scrub has an interlocked V-shaped collar. The interlock collars are better at retaining their shape, and provide more modesty protection if you do not wear an inner layer. They are however slightly more structured. 


3. Material & Fabric Types: Different scrub fabrics and what they mean
The fabric of your medical nursing scrub affects the comfort, durability, and maintenance of your scrub. We will mainly cover the different material types and how their properties will affect the scrub that you wear. In a nutshell the fabric composition will affect these properties 
Stretch
Weight
Structure
Durability
Special properties
Most scrubs are made of poly/cotton, poly/rayon, poly/spandex, and poly/viscose. As a general rule of thumb, natural materials like cotton are ever more soft and comfortable, synthetic fabrics on the other hand are easier to maintain, usually wrinkle resistant, and have their colours last way longer. Today's technology has already put the comfort synthetic fabrics like polyester, rayon, spandex on par with cottons. Do take note however that spandex does not take well to high temperature drying. 
The fabric of your scrub will also affect the breathability. Some of us who work in cold environments may want something warmer and others who work in hot and humid climates may want something that is cooling and dries out faster.
We've put up some bullet points so that you don't need to fret into reading too much into the details.  


Stretch Fabric
Soft to wear
Improved comfort 
Flexibility of movement
Look out for: Fabrics with 3-4% elastane or spandex content. 
Having that bit of stretch in your scrubs means a better fit and flexibility of movement. It adds to overall wearing comfort. 


Lightweight Fabric
Breathable 
Quick drying 
Keeps you cool
Look out for: Blended fabrics such as polyester-rayon or polyester-cotton.  
Lightweight fabric keeps you cool and dry at work. It gives better breathability and extra comfort. Especially if your role involves a lot of moving around. 


Weighted Fabric
More durable
Better protection against spills
Look out for: Weighted fabric with 35% - 45% cotton. 
Fabric that carry some weight tend to be longer lasting. If you work with fluids a lot, then a thicker fabric gives more protection against splashes. 
Fabric with Additional Properties
Stain-resistant
Anti-microbial 
Wrinkle-resistant
Look out for: These special scrub properties are usually indicated by the scrub brand or supplier. 
Whether you need these fabric properties or not depends on your work scope. Often, they are useful but not essential. We'll talk more about this in a later section.  


4. Price: How much should you pay for scrubs?
Scrubs typically range from SGD19-55 per piece. How much you should be paying for your scrubs depend on: 
Expected lifespan of scrubs, or frequency of replacement

Working environment

Your job role
If you work in a high contamination or high spillage environment, your scrubs tend to be more prone to damage. If you require frequent replacement for your scrubs (< replacement every 0.5 year), then you should consider a cheaper, more 'disposable' scrub option. On the other hand, quality scrubs are worth paying for. If your scrubs are for standard use, it can be stretched up to 2-3 years. You can see it as investing in a long-lasting set of scrubs. 


5. Care, Maintenance & Durability
A scrub should be easy to care for. Some of you may have washing requirements If your hospital or clinic requires your scrubs to be washed and dried at high temperature. This component can be summed up quickly. Consider the factors below: 
Washing temperature
Laundry method (industrial or domestic)
Frequency of wash 
Risk of fluid spillage or contamination at work


Washing Requirements
Check laundry specifications 

Polyester-cotton, polyester and cotton fabrics are common
Depending on laundry methods, washing temperature and frequency of wash, you should choose your scrubs accordingly. Check that the fabric can withstand high temperature washes or specified laundry methods. This is normally labelled. If you encounter fluid spillage or contamination often, choose a thicker scrub fabric. Ensure it can withstand intense cleaning while maintaining durability over time. 


Durability
Sturdy stitches 

Quality and substantial fabric

Avoid zips and snap buttons
Look out for: Double-stitched seams, French seams and reinforced seams. The scrub fabric should feel substantial to touch. Checking for sturdy stitches can help you identify a pair of well-made scrubs. These stitches don't come off as easily, thus more withstanding of everyday wear and tear. Quality fabric adds to the longevity of your scrubs, as mentioned earlier. The fabric should feel weighted and substantial when held. Meanwhile, avoid zips and snap buttons on your scrubs. They make your scrubs harder to maintain & repair.



Top 5 Medical Nursing Scrubs
To start off, we will be introducing 5 best medical scrub brands. Based on comfort, functionality and durability, we think these are scrubs that are worth your dollar. We've also featured specific scrubs from each brand to give you a better idea and picked this out with Singapore's medical and healthcare industry in mind. Let us tell you how.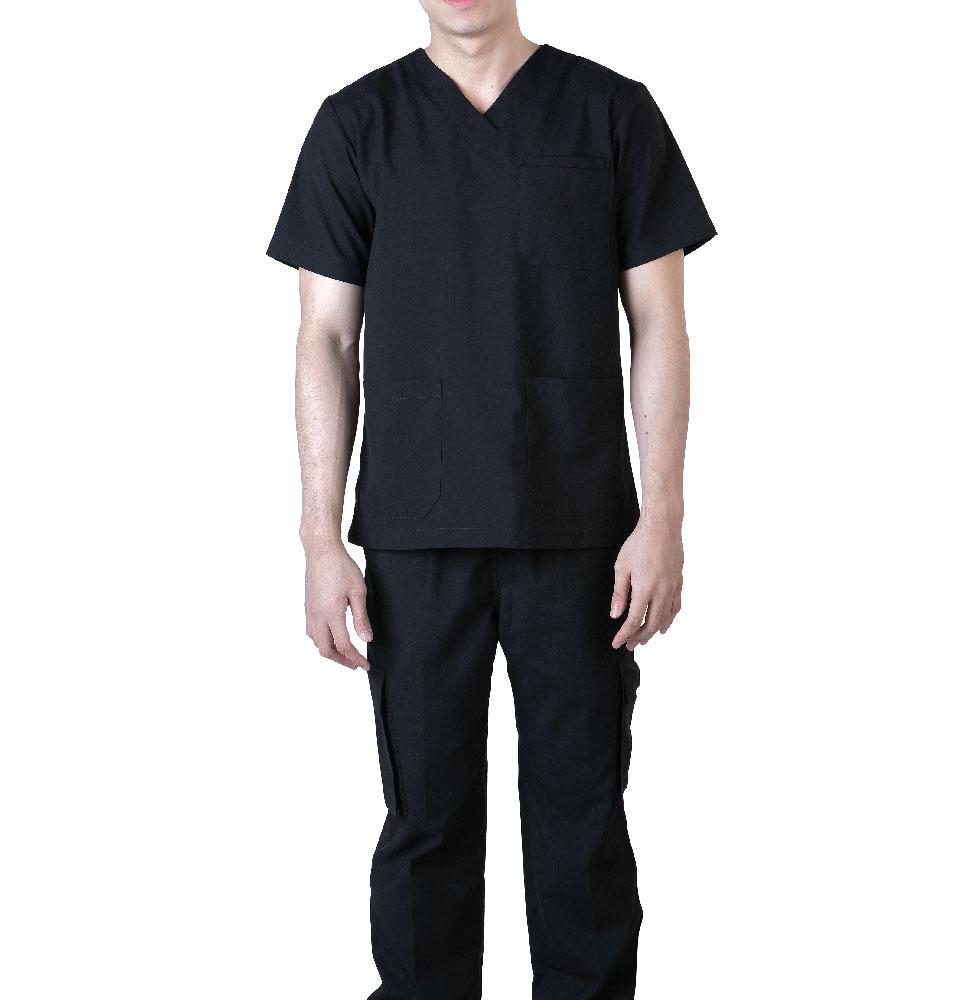 MF Basics Medical Scrub Top and Pants
Value-for-money, comfortable and quality.
Comfort: 
Lightweight breathable fabric 
Moisture-wicking to keep you cool 
Roomy straight fit 
Comfortable fit with drawstring and elasticated waist 
Our very own scrubs, MF Basics, offer value-for-money quality and comfort. The lightweight fabric ensures breathability, while keeping you cool and dry. 
The straight cut gives just the right fit, allowing you to move freely without excess fabric hanging loose. The fit of scrub pants can be easily adjusted for enhanced comfort. 
Functionality:
Roomy and spacious scrub pockets
Quality fabric withstands high temperature washes
Scrub pockets are wide and deep to hold your necessities securely. Scrub top and pants come with double pockets each. The quality scrub fabric can be washed at high temperatures so you can ensure your scrubs are thoroughly cleaned. 
Durability: 
2 years or more
Fabric does not pill overtime 
MF Basic Medical Scrubs uses quality fabric that is easy to maintain. The fabric is not prone to pilling (the forming of fibre balls on fabric) and keeps well overtime. 
Price: SGD28 per scrub top or pants, SGD55 per set.
Plus points: 
Sizing is in Asian fit 
Made especially for healthcare and medical professionals in Singapore
Value for money 
Using Asian sizing, MF Basic Medical Scrubs follow the clothes sizes you are used to. You can find the right size easily.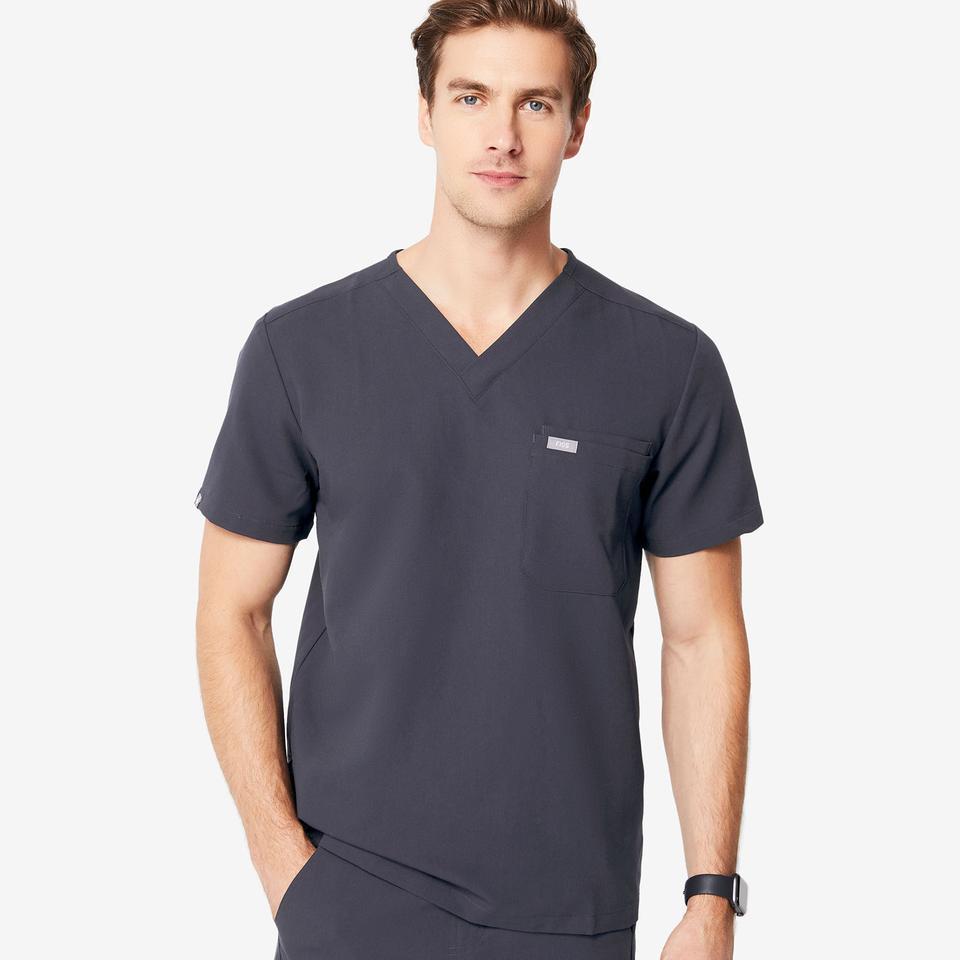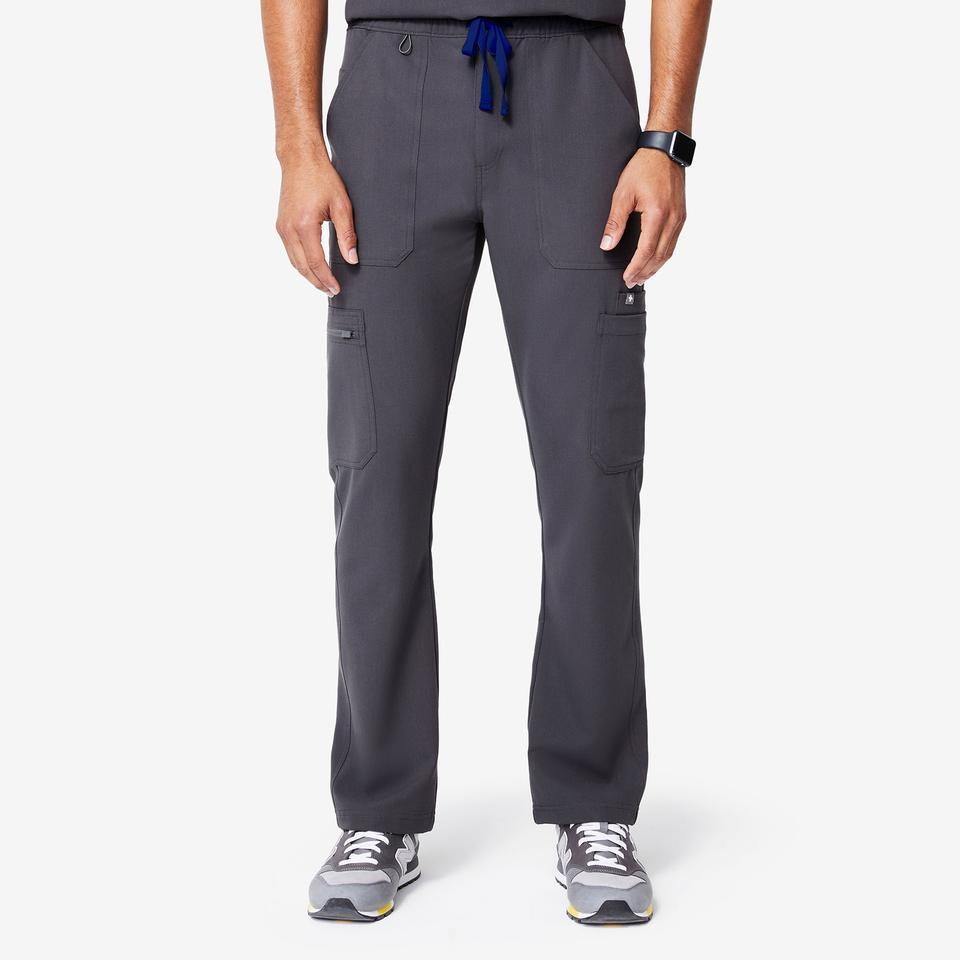 FIGS Leon Two-Pocket Scrub top and Cairo Cargo Scrub Pants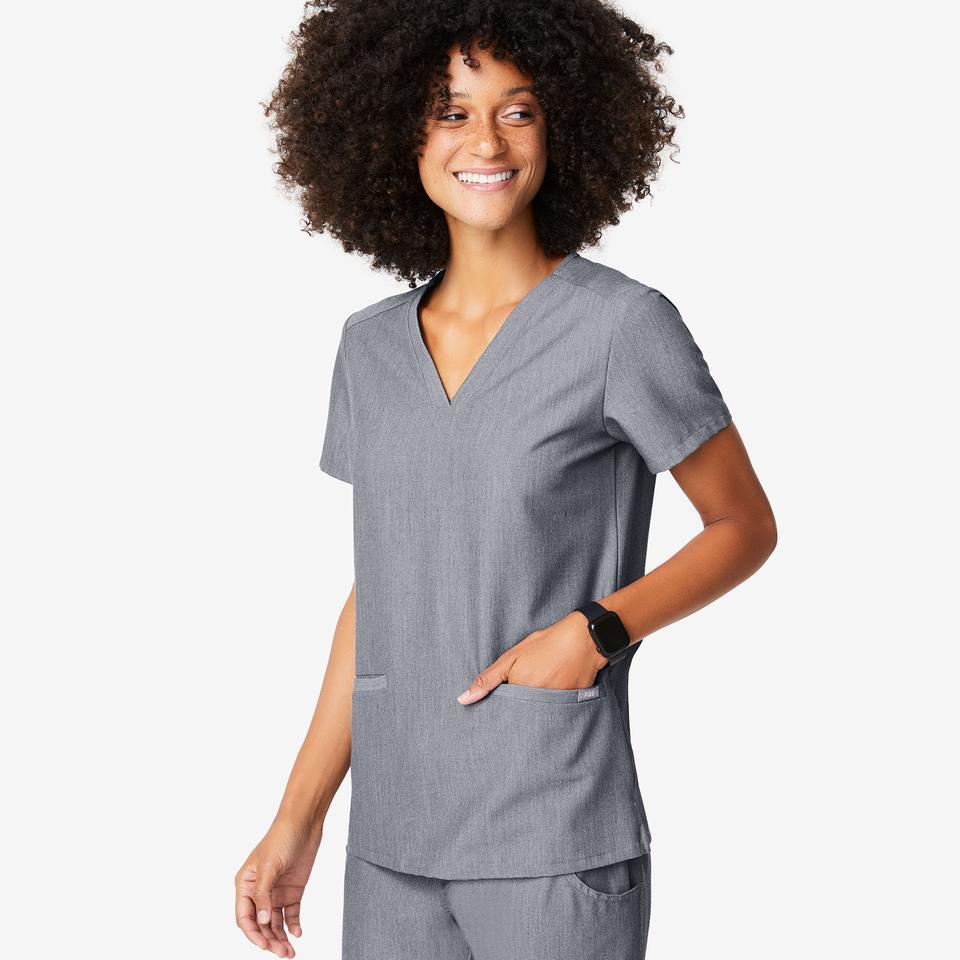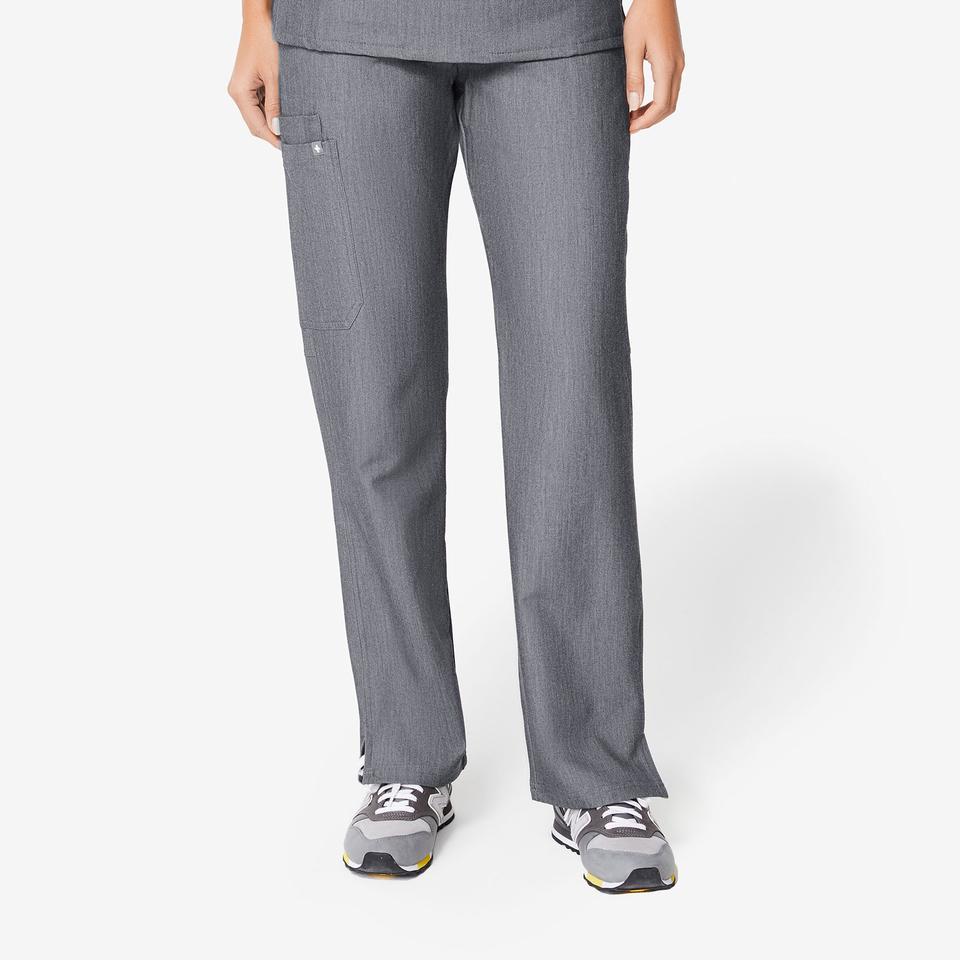 FIGS Casma Three-Pocket Scrub Top and Kade Cargo Scrub Pants
Innovative, technical and extremely stylish.
Comfort: 
Soft and durable fabric that doesn't feel heavy 
Tailored slim fit 
Scrub top and pants at just the right length 
FIGS uses technical scrub fabrics that is extra soft and flexible. It is especially suited for long working hours in air-conditioned environments. 
Their tailored slim fit is flattering to wear, with the right amount of roominess. Their top comes at the ideal length for either tucking in or leaving out. Meanwhile, the scrub pants comes in a bootleg cut for the perfect length and fit. 
Functionality:
Their scrub pockets are known to be sturdy and doesn't sag with weight
Multi-pocket design with up to nine utility pockets for cargo scrub pants
Multi-pocket design is ideal for holding and compartmentalising your tools on the go. We especially love FIGS Cairo Cargo Scrub Pants. It has nine utility pockets – including pocket compartments, a zipped pocket and even a scissors sleeve – it doesn't get handier than this. 
Durability: 
3 years or more
Retains fit and colour well over time 
The fabric washes well while retaining its colour and quality. The durability of FIGS scrubs is apparent when you feel how substantial it is. It's definitely a set of scrubs worthy of investing in. 
Price: SGD55-75 per piece
Plus points: 
Fabric is anti-wrinkle, moisture-wicking and four-way stretch, with Silvadur™️ antimicrobial technology
Stylish design in contemporary shades 
We love the contemporary shades of FIGS scrubs. From brights to neutrals such as greys and beige, their colour options are attractive and pleasing. While FIGS medical scrubs are more expensive, it's definitely a worthy investment.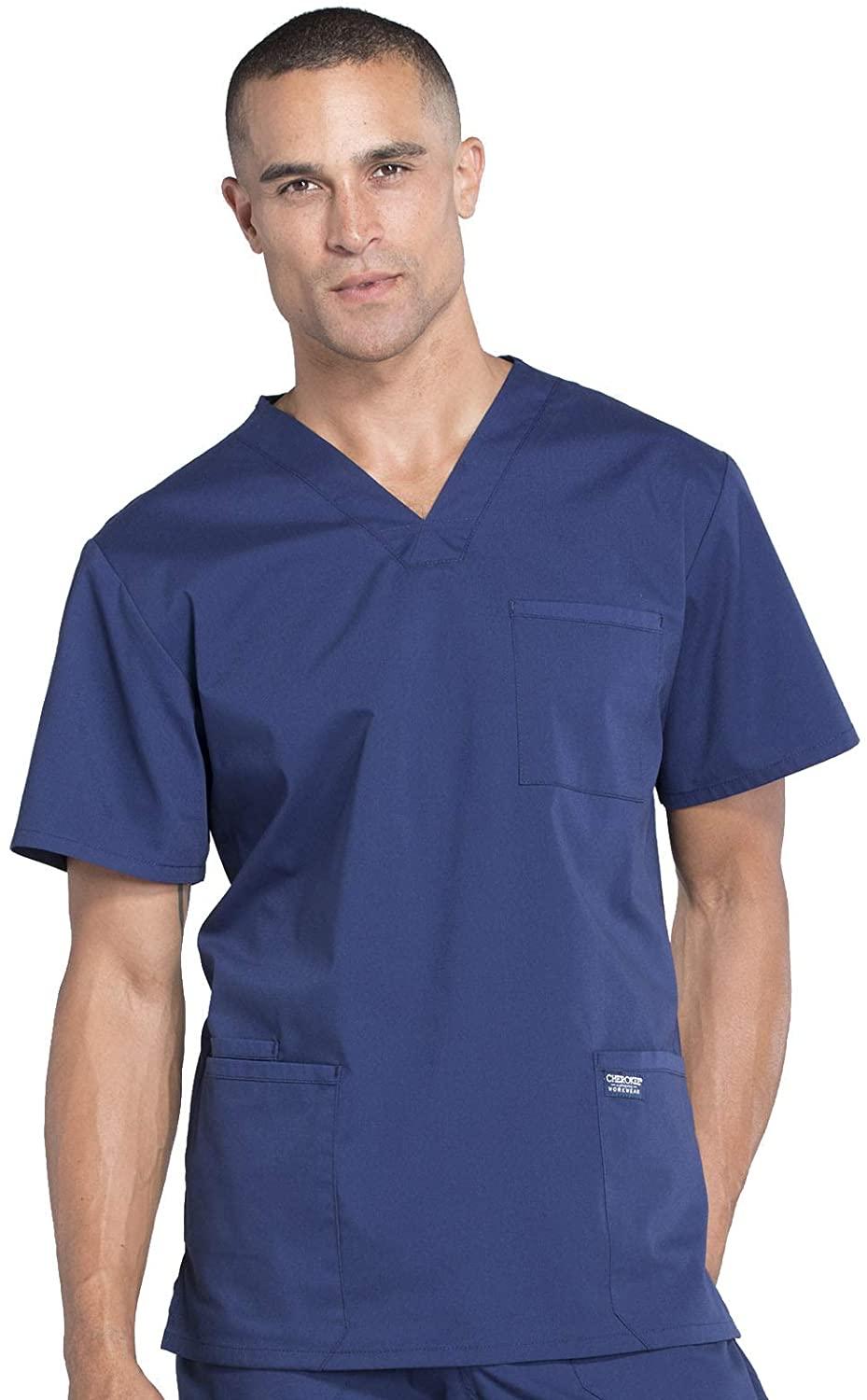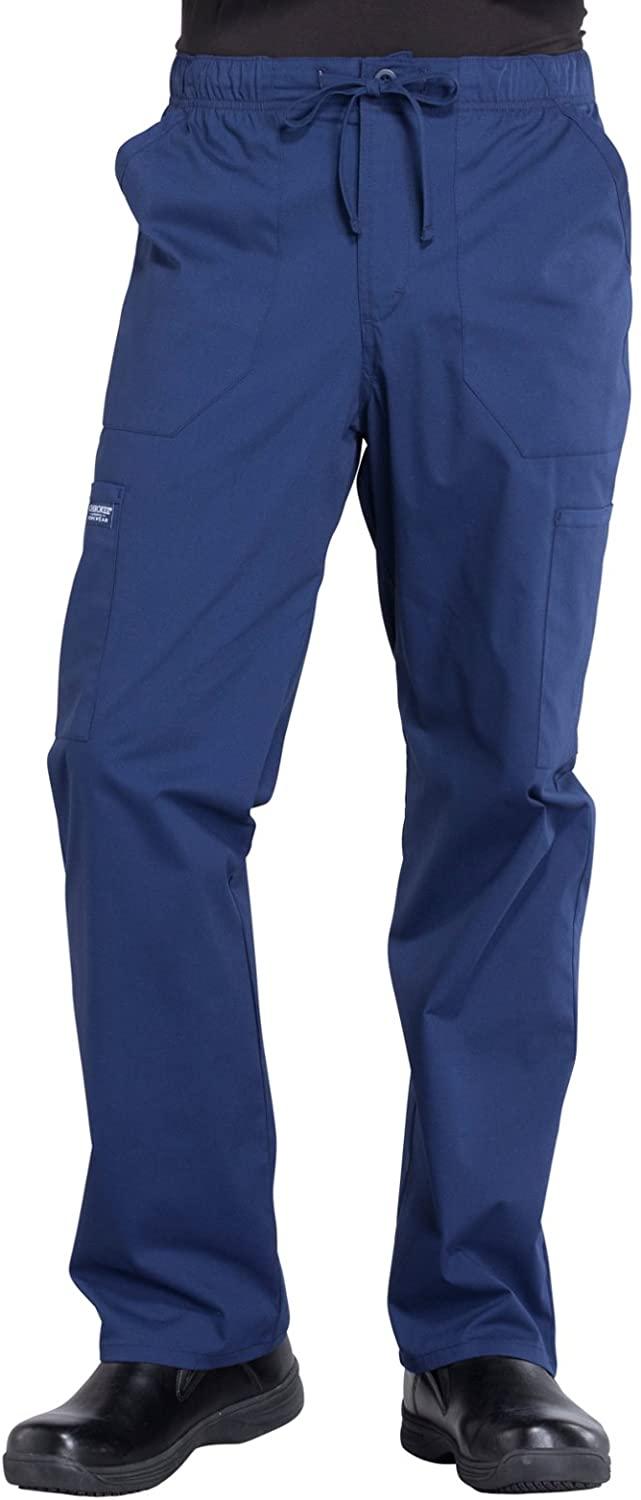 Cherokee Workwear Professionals Men's V-neck Scrub Top
Cherokee Workwear Professionals Men's Tapered Leg Drawstring Cargo Scrub Pants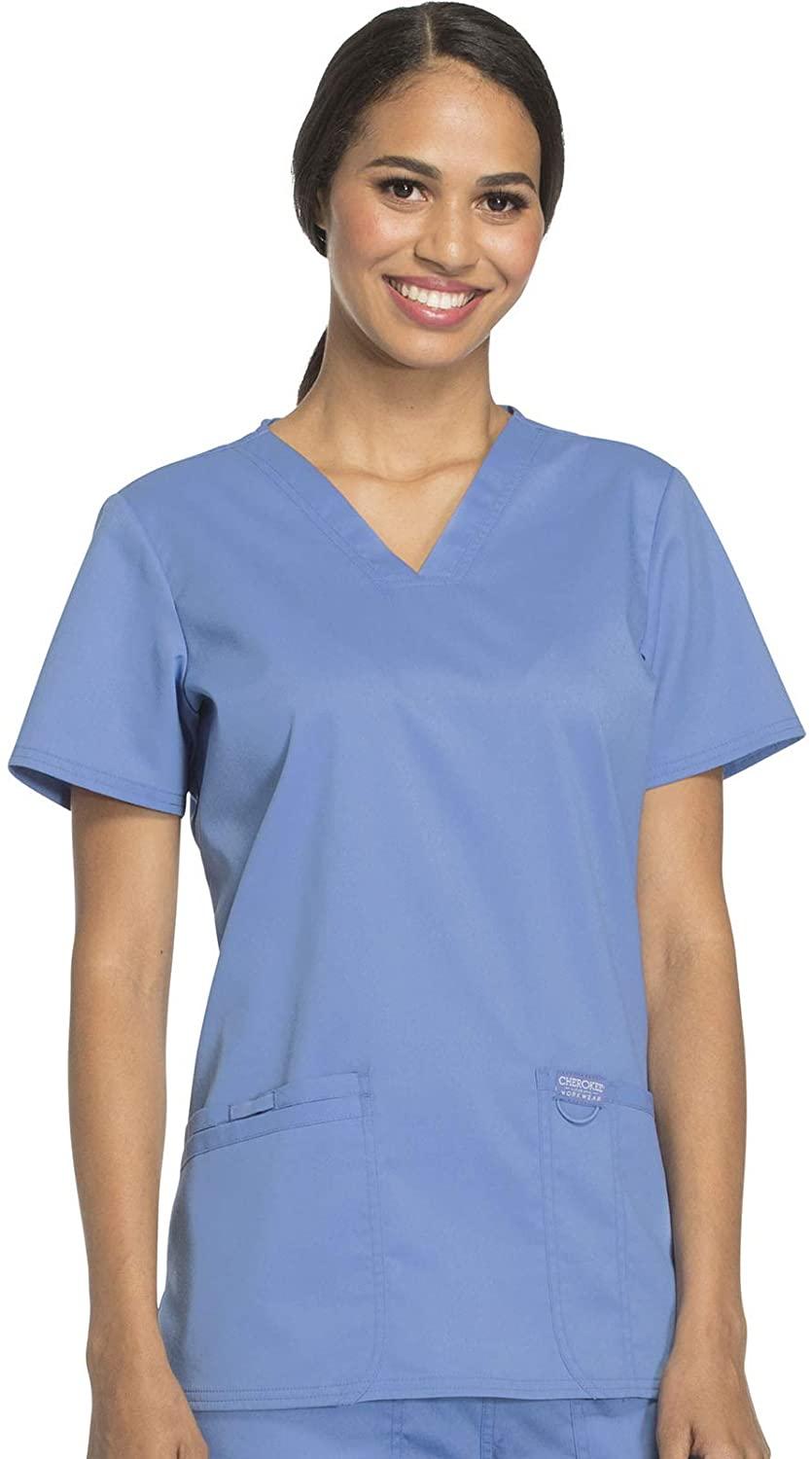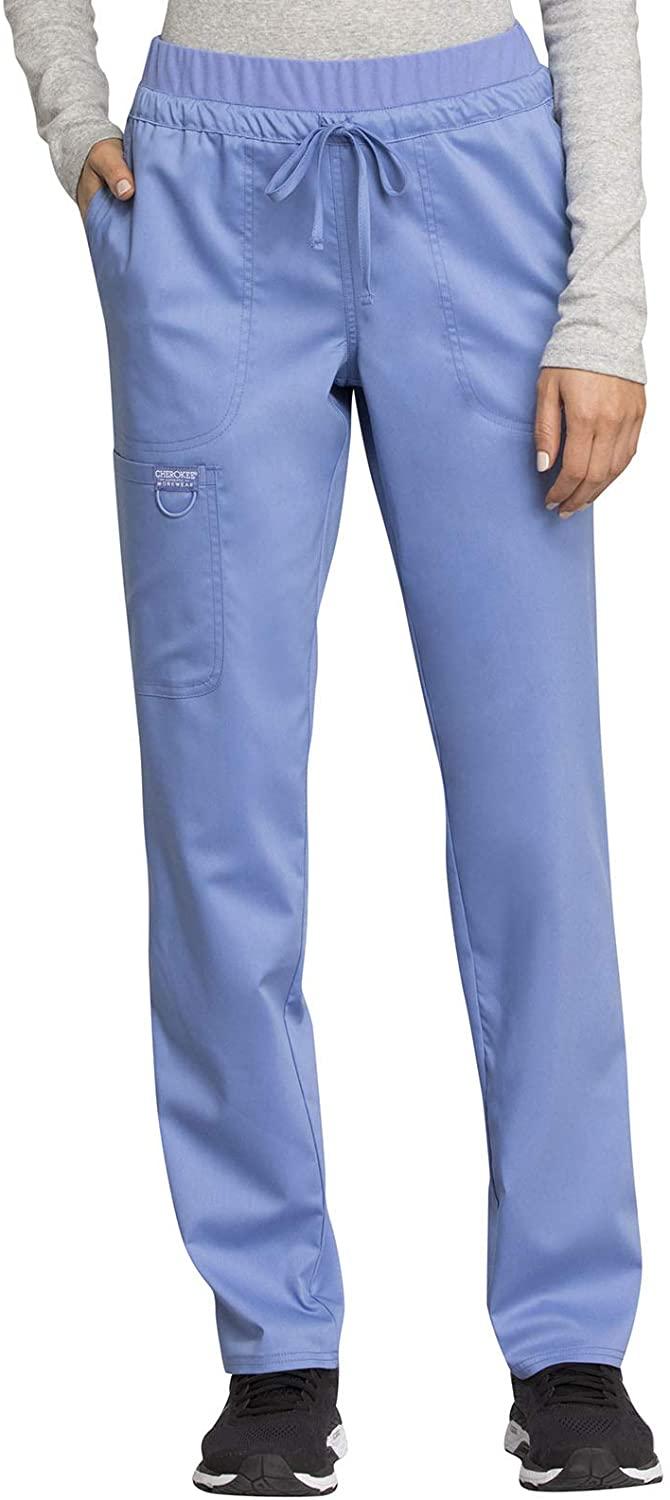 Cherokee Workwear Revolution Women's V-neck Scrub Top
Cherokee Workwear Revolution Mid Rise Tapered Leg Drawstring Pant
Affordable, stretchy and comfortable.
Comfort: 
Lightweight and stretchy fabric 
Good fabric breathability
Straight cut with a roomy fit 
That added stretch in Cherokee's scrubs facilitates movement and activity throughout your day. It lets you bend, stretch and move about with ease. The lightweight polyester-rayon blend keeps you cool with good breathability. Especially suitable for physically demanding roles. 
With a tapered leg cut, Cherokee's scrub pants fits comfortably on the legs. It comes in Short, Tall or Regular sizing so you can find the right length.
Functionality:
Plenty of pocket space 
Quality construction 
Cherokee's scrubs comes with plenty of pocket space for your equipment. With patch pockets for scrub top, plus cargo pockets for the pants, its functionality is favoured by Cherokee wearers. 
Cherokee Scrubs come with sturdy stitching to ensure it lasts you through wear and tear.
Durability: 
More than 2 years
Retains fit and does not shrink 
The lightweight material is easy to clean. Fit is retained without shrinkage, even with repeated washes. 
Price: SGD25-35 for tops and pants each 
Plus points: 
Affordable basic scrubs
Wide range of colours 
An affordable option for quality basic scrubs. Lightweight fabric makes for easy breathability. It makes for a value for money scrub option.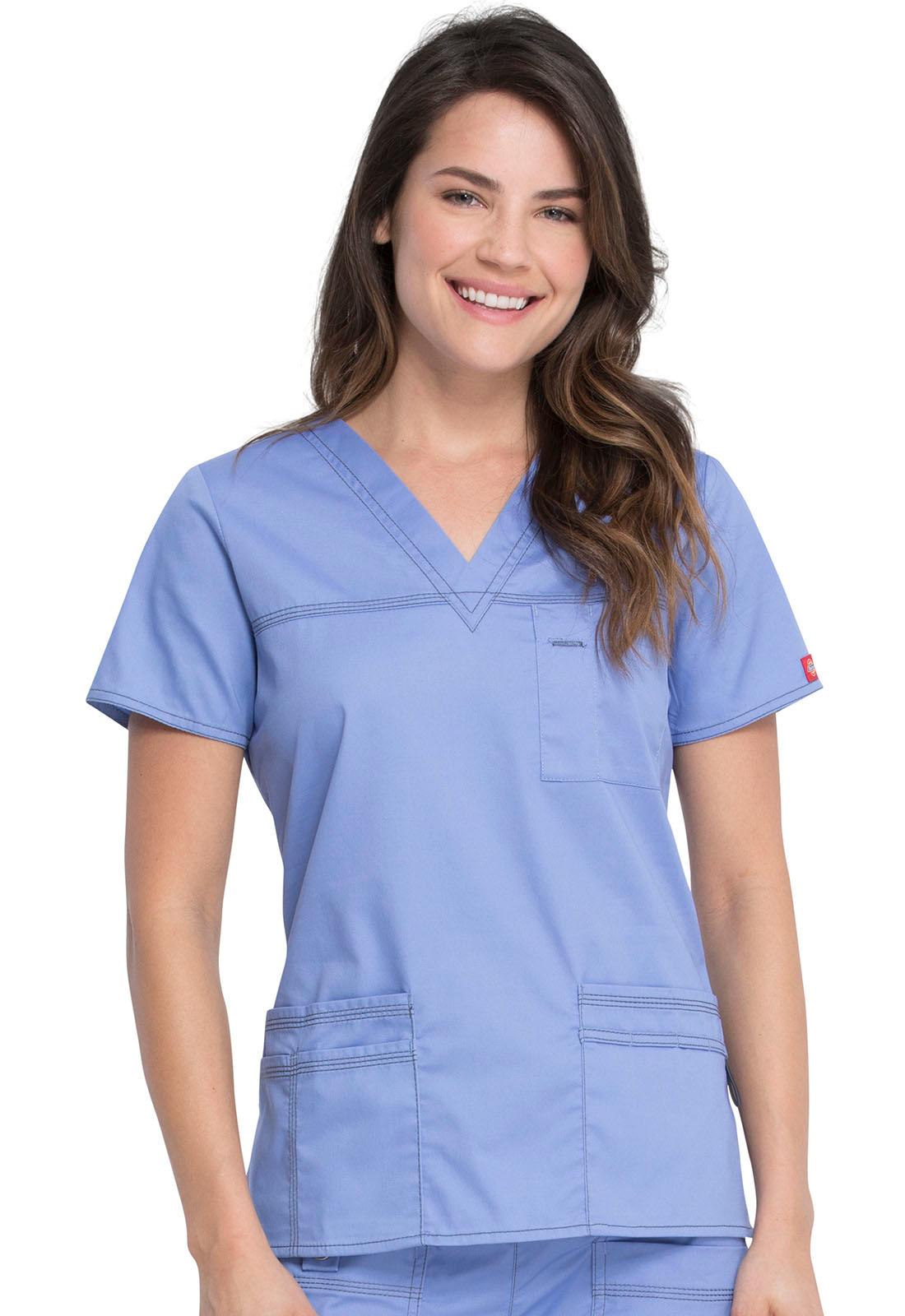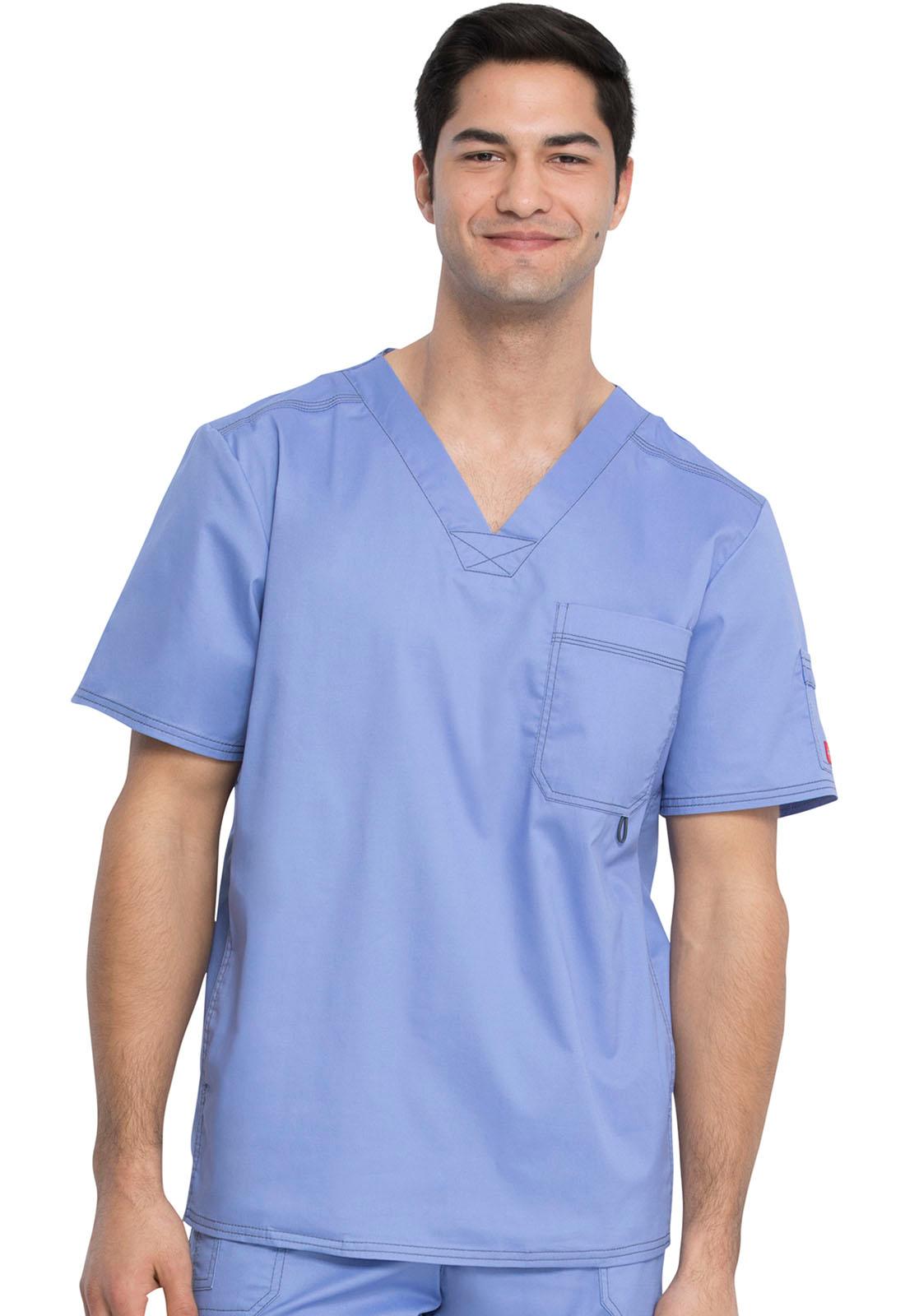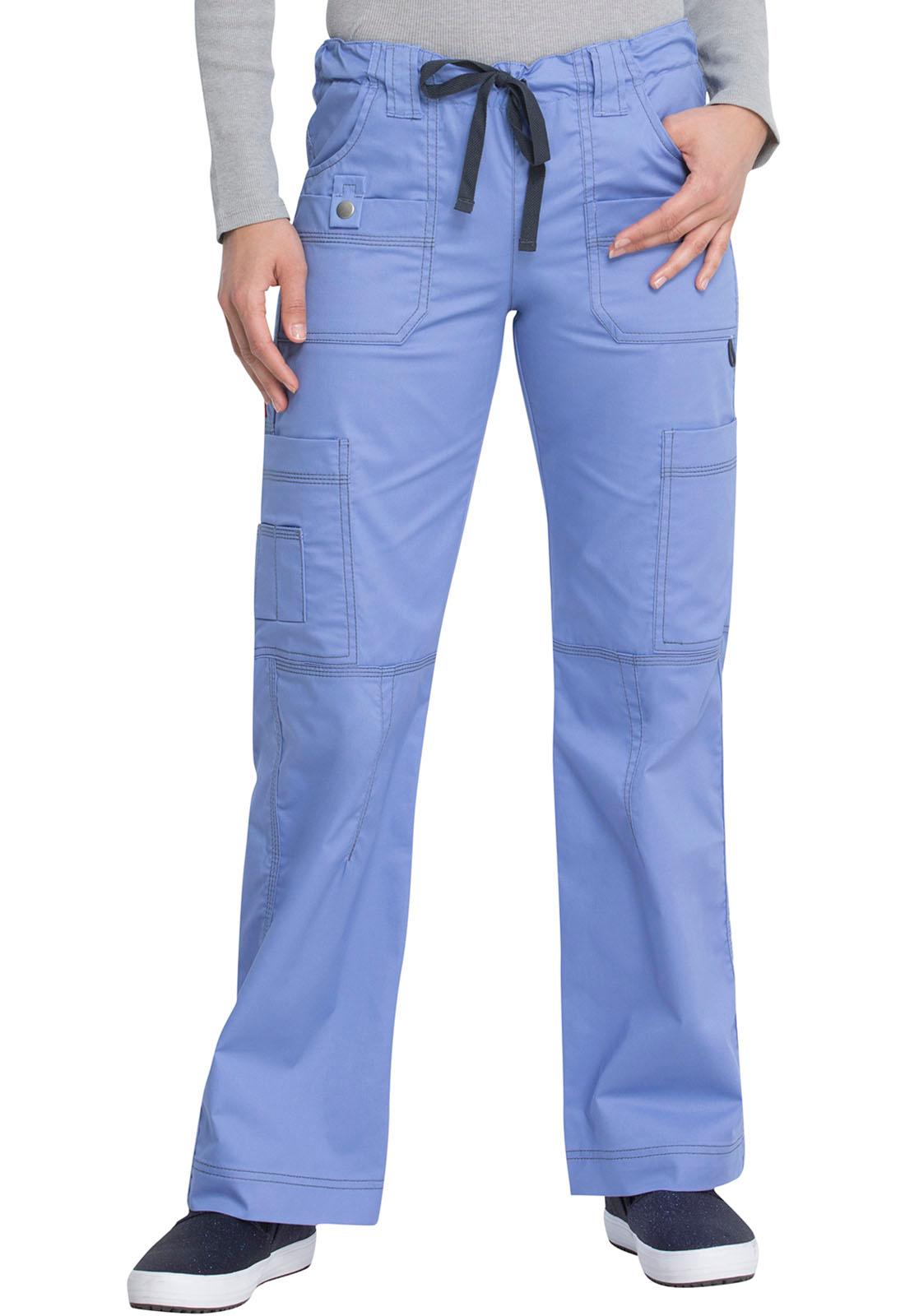 Dickies Gen Flex V-neck Top and Dickies Low Rise Drawstring Cargo Pant
Utilitarian, stylish and comfortable.
Comfort: 
Sturdy, comfortable fabric 
Added stretch in key areas
Excellent fit 
Expect high quality comfort with Dickies Medical Scrubs, which uses a moderate weight polyester-cotton blend. What's more, it gives you the stretch you need in key areas. 
Meanwhile, Dickies wearers have praised their scrubs for its excellent fit. It is adequately roomy to move around in. 
Functionality:
Multiple pocket compartment
Ample storage space
Pockets are sectioned out with pen holder, exterior pocket and separate compartments for phone and small items. Expect convenience and easy access, with all your tools organised on-the-go.
Durability: 
More than 2 years
Sturdy polyester-cotton twill 
Dickies' durable fabric choice washes well while retaining fit. With its substantial polyester-cotton twill, you can be assured of its durability. 
Price: SGD35-55 per piece
Plus points: 
Comes in unique colour options by Dickies
Stylish contrast stitch detailing
Dickies Medical scrubs combine utility with style. A comprehensive colour range means you can coordinate your medical uniform across departments.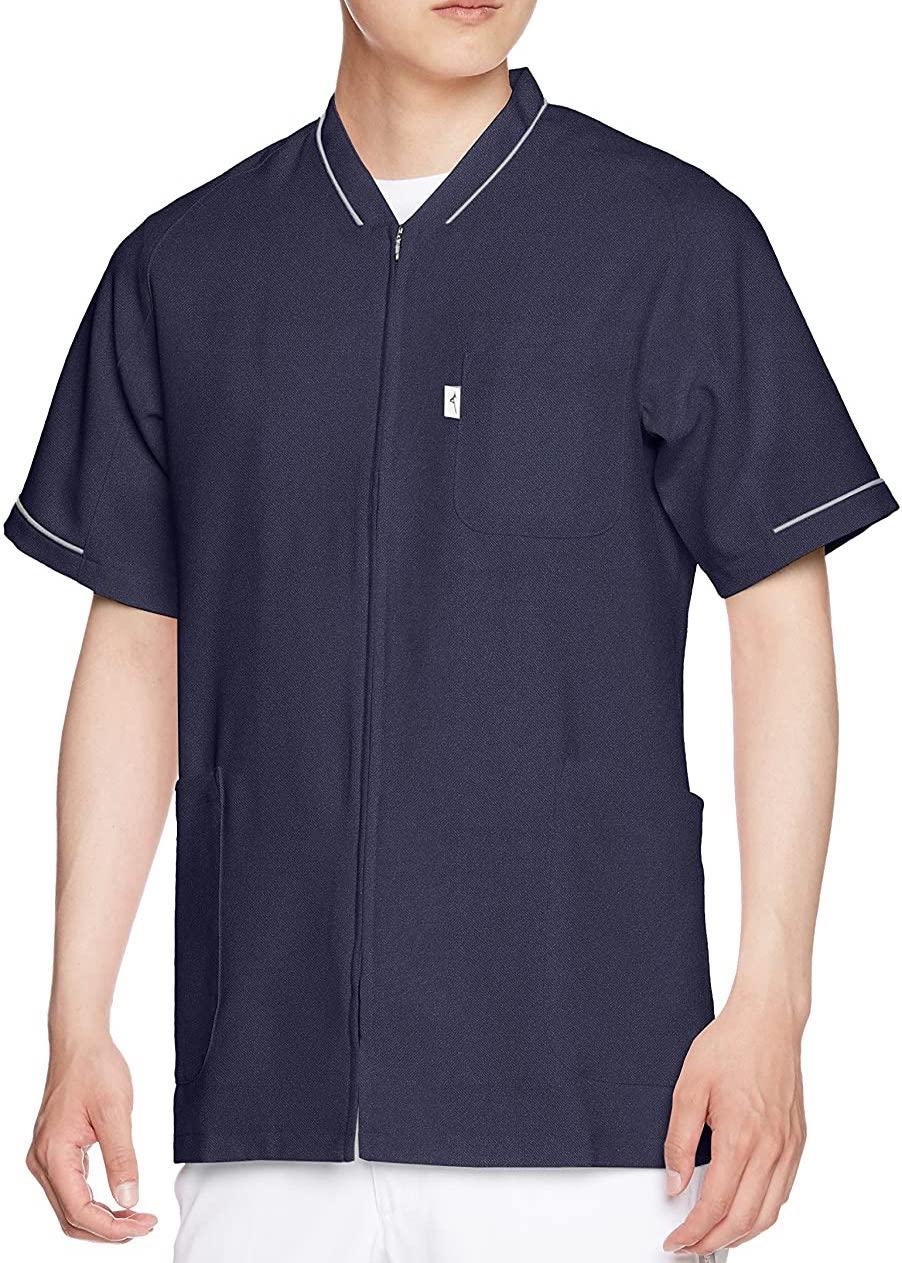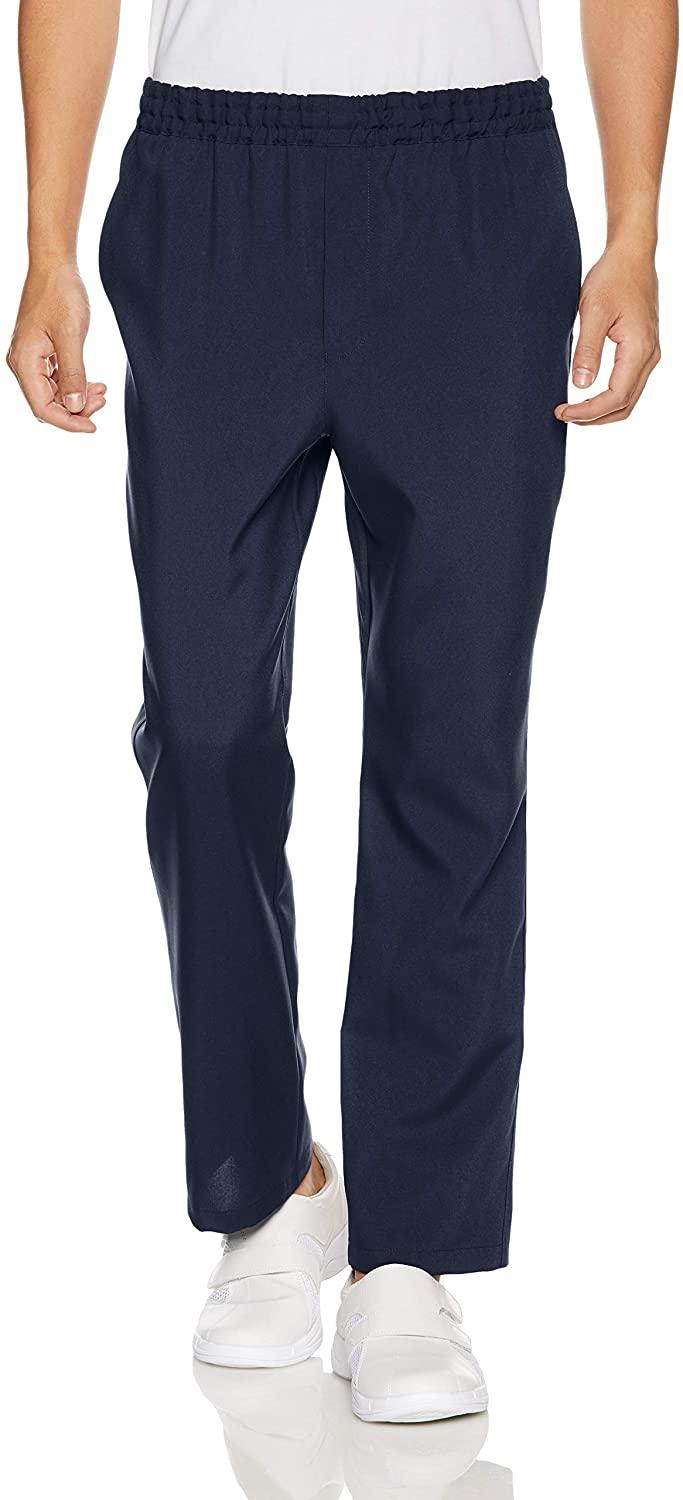 Mizuno MZ0150 (Scrub Top) and MZ0022 (Scrub Pants)
Innovative, flexible and comfortable. 
Comfort: 
Lightweight wearing comfort 
Moisture-wicking and quick drying 
Fabric engineered with Dynamotion Fit 
Mizuno Medical Scrubs are developed in conjunction with uniform manufacturer Chitose. The innovative fabric use makes the scrubs extremely light to wear. 
This sportswear-inspired scrubs is moisture-wicking and quick drying. It keeps you cool and dry all day. With Dynamotion Fit, it gives the wearer the fullest ease of movement. 
Functionality:
Raglan sleeve construction 
Pockets come with compartments and ID loop 
Pockets are designed specially to fit work essentials. It includes dedicated compartment for pens as well as ID loop to keep your stuff within easy reach. 
In contrast to conventional sleeve construction, Mizuno Medical Scrubs adopts a raglan construction. This means less wear and tear along the seams, and longer lifespan for the scrubs. 
Durability: 
3 years or more
Tough but lightweight fabric 
With good construction and tough wearing fabric, Mizuno Medical scrubs are intended to last a long time.
Price: SGD50-80 per piece
Plus points: 
Minimal, stylish design
Easy wearing, suitable for layering
Innovative and functional scrubs that are high quality. A practical option. 


Custom-made Medical Nursing Scrubs


3 Ways to Customise your Scrubs
Customisation is the ideal way to personalise your medical scrubs for your clinic, hospital, medical practice or healthcare service. Let's introduce a few ways you can brand your medical scrubs.
Custom logo
Embroidery
Print
Embroidered name or tags
Read more about embroidery, print & other decoration methods in our compete guide.
Custom colour
By team
By department or specialism
Adding colour accents
Custom design
Varied style: v-neck, round neck, single-breasted, etc
Custom fit: contoured fit with princess seams
Add-ons: chest pocket, cargo pocket and so on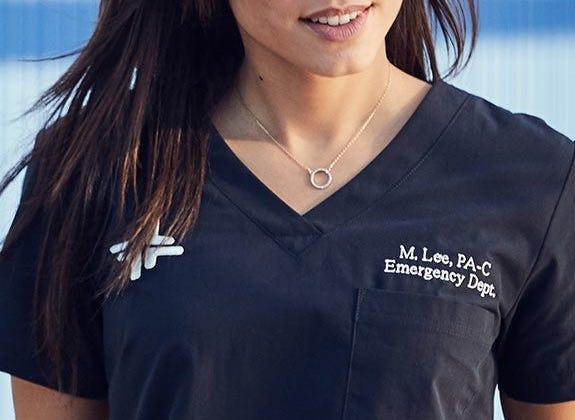 Specialised Medical Scrubs


Anti-microbial Fabric: What is it and do you need it?
What anti-microbial fabric does?
Act as additional layer of 'defence' and protection against contamination
Prevents odour and growth of microbes
Helps preserves the fabric and prolonging lifespan of the scrubs
During the manufacturing process, the fabric is treated with special antimicrobial agents. This creates a material that prevents the growth of microorganisms or microbes. Anti-microbial fabric has been increasingly used for medical scrubs.
Do you need it for your scrubs?
The fabric of your scrubs form the immediate barrier between the skin and the external environment. It is in constant close proximity with your skin. In that sense, your scrubs are very prone to odours, bacteria and so on in the long hours of wear. Given the interlacing nature of fabrics, where fibres interlock and weave together within the fabric structure, it forms a potential site for microbes growth.
As such, anti-microbial fabric has been developed to inhibit the growth of microbes. This is especially pertinent when you work in highly contagious environments with greater exposure to contamination. Preventing microbes growth also helps to keep the fabric intact for longer, thus helping your scrubs last longer.
We would say that anti-microbial fabric is a plus, but not an essential. In regular healthcare working environments, it is not crucial to have anti-microbial fabric for your scrubs. Conversely, if you work in contamination-prone environments, then it's worth considering anti-microbial scrubs.


Medical Scrubs Vs. Surgical Scrubs: What is the difference?


What are surgical scrubs?
More disposable, made with lighter weight fabric
For use in high contamination environment
Frequently replaced
Usually worn by surgeons and their assistants
What are medical scrubs?
More durable, made with higher quality fabric
Meant to be re-worn over a long period of time
For standard use
Surgical scrubs are intended for surgeons, surgery room assistants or those working in high-contamination environments. Their job role would entail greater exposure to chemicals and fluids, frequent handling of fluids and higher tendency of spills. Due to this, their scrubs have to be disposed of more frequently. They might also need to change between a few sets of scrubs each day.
For that reason, surgical scrubs are made with thinner material, and likely to be cheaper too. Meanwhile, medical scrubs are made of more substantial material, made for longer periods of wear. Since they are made to last longer, medical scrubs come with more varied designs and customisations.


Conclusion


Medical Scrubs that Meet Your Needs
In conclusion, the perfect scrubs for medical and healthcare uniform should be:
Easy: easy to source and purchase, readily available, easy to customise
Convenient: comes with pockets that are convenient and handy for work
Affordable: available at affordable prices, often cheaper than other uniform options
Professional: matching scrub set with scrub top and pants, coordinated team scrubs, easily achieve professional and consistent healthcare image
While we've mainly covered medical scrubs with scrub tops and scrub pants, there are a range of other options for medical and healthcare uniform. Consider nurse dress, scrub dress and lab coats for instance. Also consider how you can complete your professional uniform with scrub hats and medical footwear.
As a versatile and affordable uniform option, medical scrubs are not only worn by doctors, nurses and healthcare practitioners. It can also be extended to dentists, care givers, aestheticians, vets, physiotherapists, and so on.
​

​
​
​
​
​
​
​
​
​
​