Other than food quality and customer service, a strong brand is undoubtedly important for the longevity of an F&B establishment.
That means thinking about things like:
Your brand story

The impression you want to leave customers with

The dining experience

Takeout and delivery packaging
Restaurant uniforms are part of the picture. These establish a consistent identity across all staff, fostering greater unity and purpose. In combination with colour psychology, well-designed F&B uniforms can shape how customers experience your restaurant.
So just how do you choose a good restaurant uniform?
We'll take you through that step by step.
Step 1: Think About the Brand You Want to Build
Completing a jigsaw puzzle gets easier when you finish fitting the frame together.
Since your uniforms are just one piece of that overall F&B brand, you'll want to begin by thinking about the overall brand story.
If you've already thought about your F&B brand, you can breeze through this bit.
But if not, you can get a clearer picture by answering these five questions:
What demographics are you reaching out to? (e.g. Busy CBD urbanites who want healthy, wholesome food while feeling like their precious lunch hour was well-spent)

Does your outlet's location have any uniquely appealing traits for diners? (e.g. A quiet spot in Botanic Gardens that's just a short walk away from the lake)

What kind of memories do you want customers to build in your restaurant? (e.g. An intimate setting for proposals, a family-friendly place where parents can bring their kids out for a treat)

What differentiates your restaurant from the competition?

What price range does your restaurant sit in? (e.g. Fine dining, casual & affordable)
As brand expert Marty Neumeier puts it, "Brands live in people's minds." This encompasses everything from the feeling customers get when they walk through the door to the take-out packaging you use.
To clear up a common misconception here: clarifying your brand story doesn't limit your customer base. Rather, it's more likely to nurture repeat customers and evangelists of your brand while also appealing to those outside your target demographic.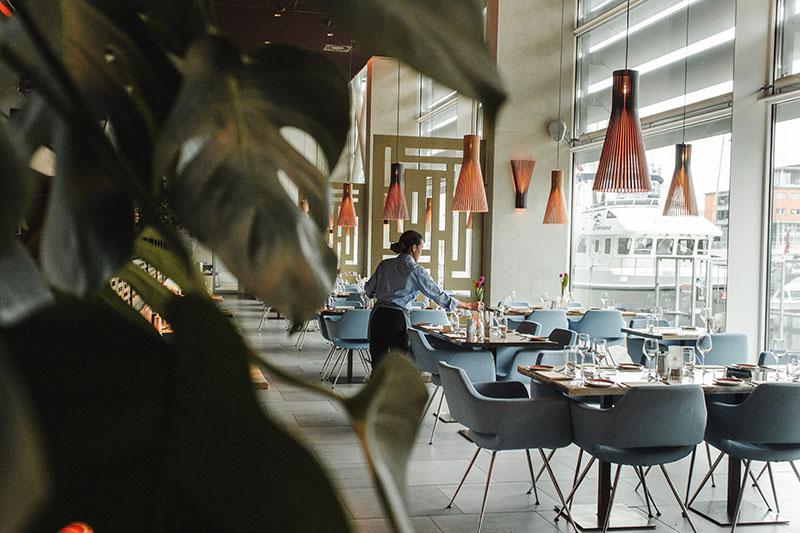 Step 2: Consider the Brand Messaging
Since COVID-19, consumers have eschewed in-person dining in favour of take-away or delivery. As a result, many restaurants these days have a digital presence and some form of delivery service — whether their own or via a third-party service like Foodpanda or Grab Food. 
But that means that you'll want to make sure your messaging is consistent across all the platforms your customer might encounter your brand.
If your website has a bright, fun colour palette promoting clean and wholesome cuisine, your brick-and-mortar food outlet experience should follow suit. 
This leads to our next point, which is to...
Step 3: Pick Your Colours and Style
Staff uniforms should be of the same or complementary colours as the rest of your brand identity.
But you'll want to pick your colours wisely because each colour evokes different feelings.
This handy infographic by Industville highlights the effects various colours have on how customers experience your food (and your restaurant):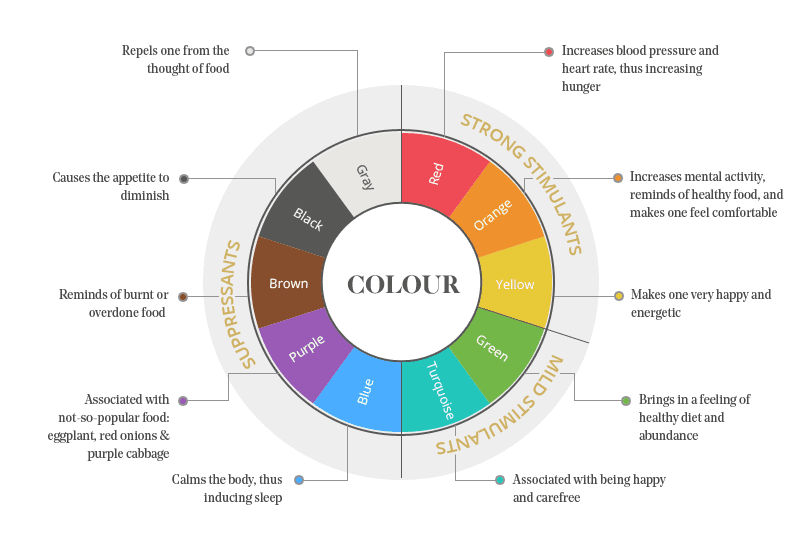 Use colour psychology to your advantage when designing the peripherals of your brand, including:
Your restaurant decor

Website

Uniforms

Menu
But you'll also want to pick a style of uniform that matches the overall concept of your restaurant. One way to start? Check out the Merchfoundry Pinterest board for ideas on possible styles.
You can also use slightly different colours and styles to denote staff rankings: your restaurant waiter uniforms might look slightly different from the uniform for your restaurant manager, for example.
Step 4: Select the Type of Material & Functionality
The type of material you select for your restaurant uniforms determines how comfortable your staff feel wearing them.
And you want your employees to feel proud of wearing their uniforms — rather than stuffy or constricted — because happy employees mean better customer service.
There are practical considerations for the materials as well. When choosing uniforms for back-of-house kitchen staff, you want something that's breathable, durable, and easy to wash.
For example, you can opt for chef uniforms with extra ventilation features such as mesh panels, underarm vents, aerated back panels, and side vents. These go a long way in helping your cookstaff stay comfortable for long hours in the kitchen.
(Read more: How to Choose Chef Uniforms in Singapore)
On the other hand, front-of-house restaurant staff might require a more lightweight, breathable material with extra pockets for order pads, pens, lighters, and so on.
Step 5: Customise Your Restaurant Uniforms
Brand identity? Check. Colours and style? Check. Material and Functionality? Check.
The last step is to customise your restaurant uniforms.
This can easily be done with a custom embroidery or printing service like Merchfoundry's, which offers bulk discounts and a sleek UI for corporate purchasers.
Simply select the F&B uniforms you'd like, then get a quotation for your order. The easy-to-use UI saves all of your past purchases as well, making it hassle-free for you to re-order the same uniforms in future.
Manufacturing plants, hospitals & labs use MF to automate orders and manage their uniforms.